6/4/2019
Hasbro released Jabba's Palace Adventure Set exclusively through Walmart stores in May 2019. The set cost $49.99 and included two single carded 3.75" Vintage Collection action figures (Han Solo (Carbonite), Ree-Yees), three wall panels and a small instruction sheet. The set was first showcased during New York Toy Fair in February 2019 and was already available for purchase in May of the same year. The turnaround time was impressive, typically figures are announced 8 to 10 months in advance.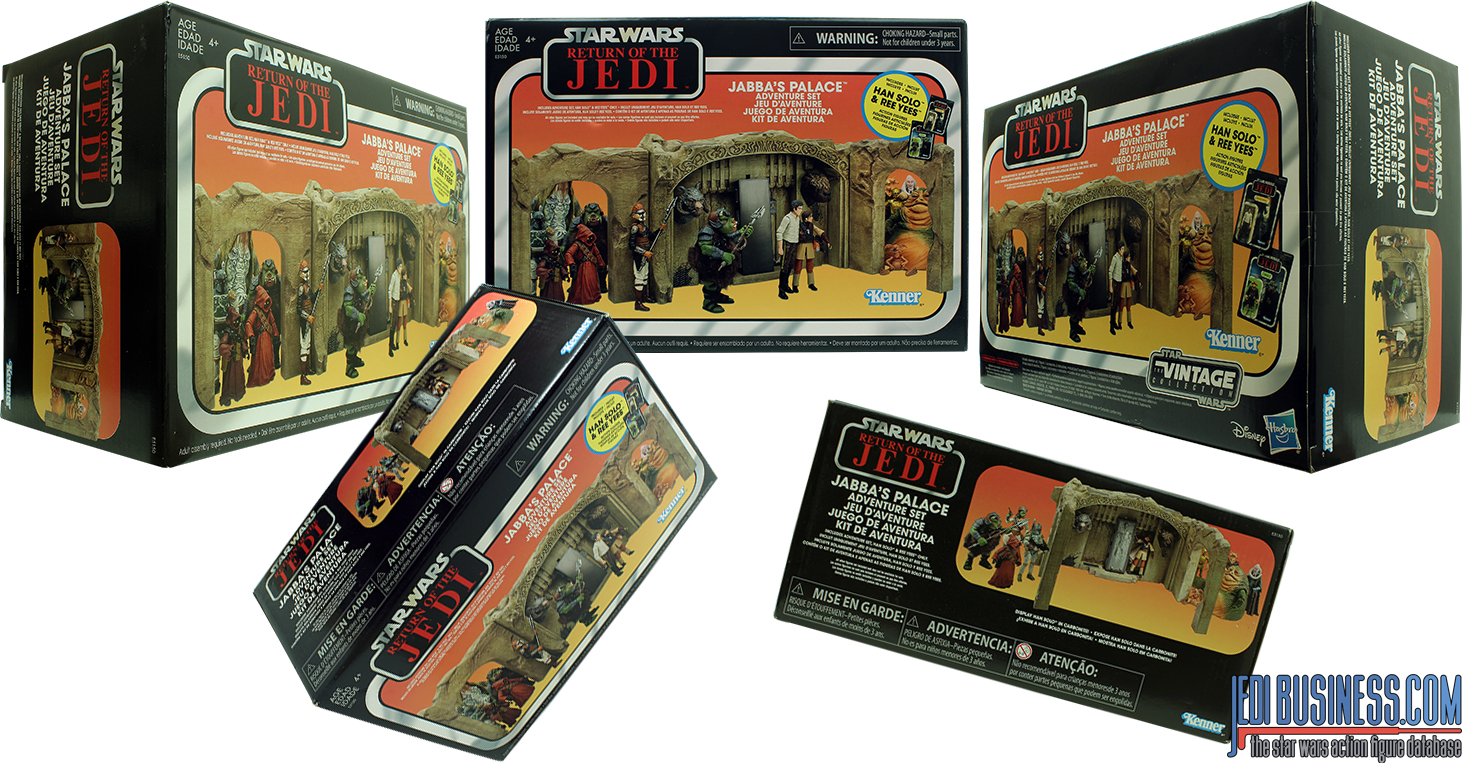 The action figures included in the Jabba's Palace Adventure Set are straight re-releases of older figures, but it was the first time that they were made available on a vintage inspired Kenner-style card. Both figures were numbered and fit right into the single carded basic assortment of The Vintage Collection. You can read all the figure information, look at the photo galleries for each figure and listen to the reviews here: VC136 Han Solo (Carbonite), VC137 Ree-Yees.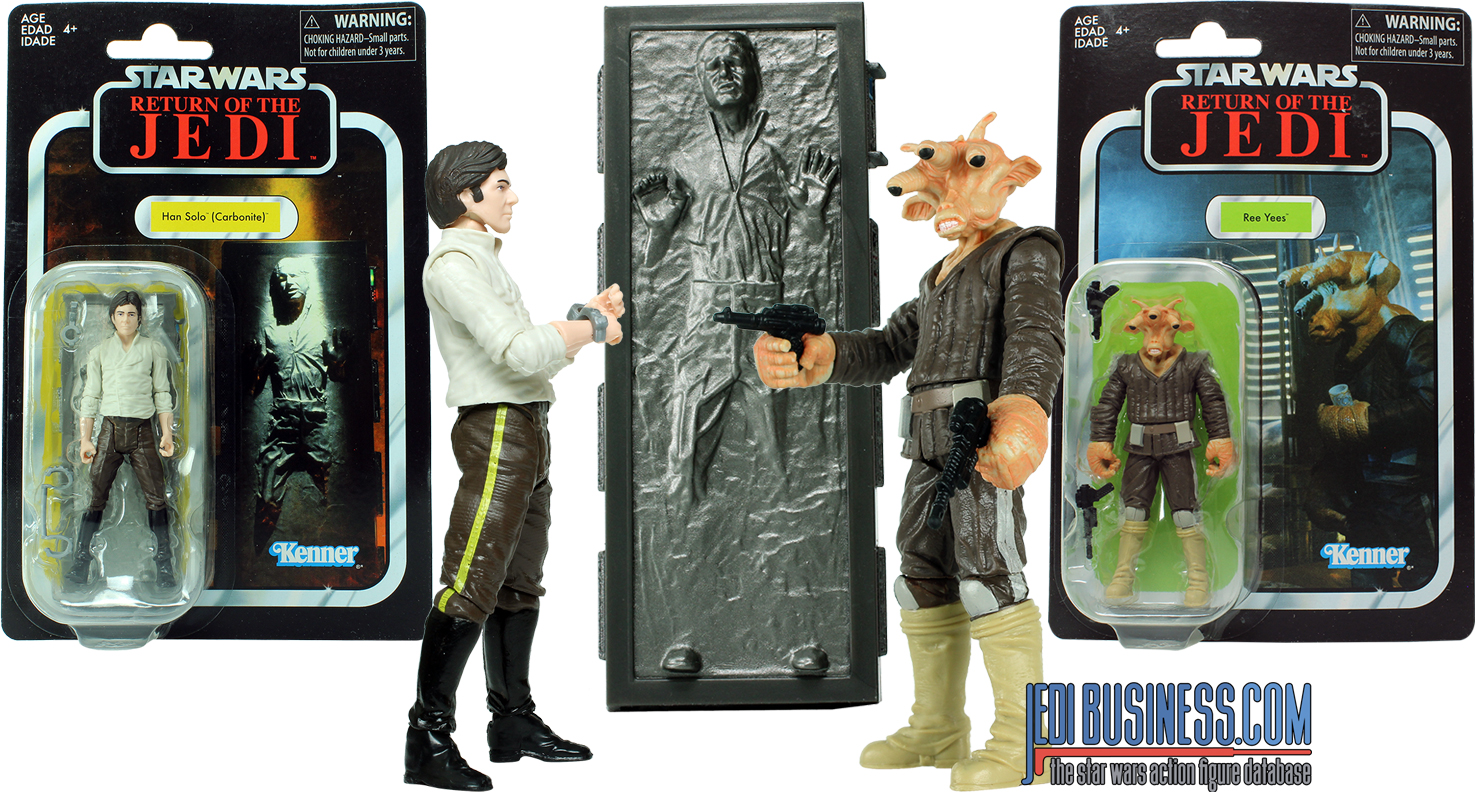 Jabba's Palace Adventure Set consists of one wall in the middle and two side arches. The arches can either be attached sideways or facing forward which results in four possible displays:
Both side arches attached sideways (about 22.5"/57.15cm long, 6.5"/16.51cm tall and 3"/7.62cm deep)
Right arch attached facing forward, left arch attached sideways
Left arch attached faceing foward, right arch attached sideways
Both arches attached facing forward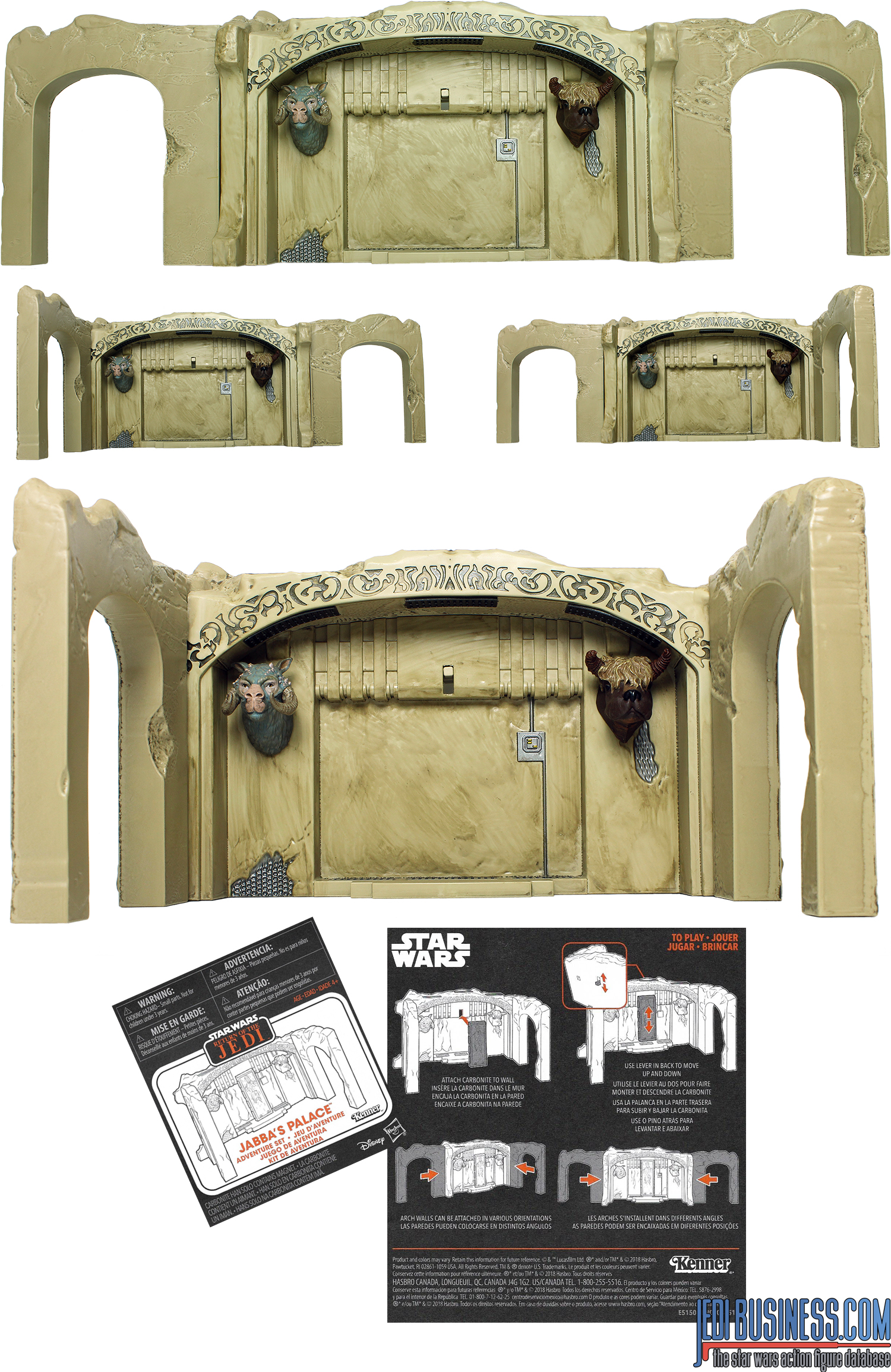 The middle wall has two permanently attached trophy heads on each side, the one on the left is a TaunTaun head and the other is a Jerba head. We've seen full sized TaunTaun's in Kenner/Hasbro's 3.75" action figure line several times over the past years but this is the first time that Hasbro has sculpted a Jerba head.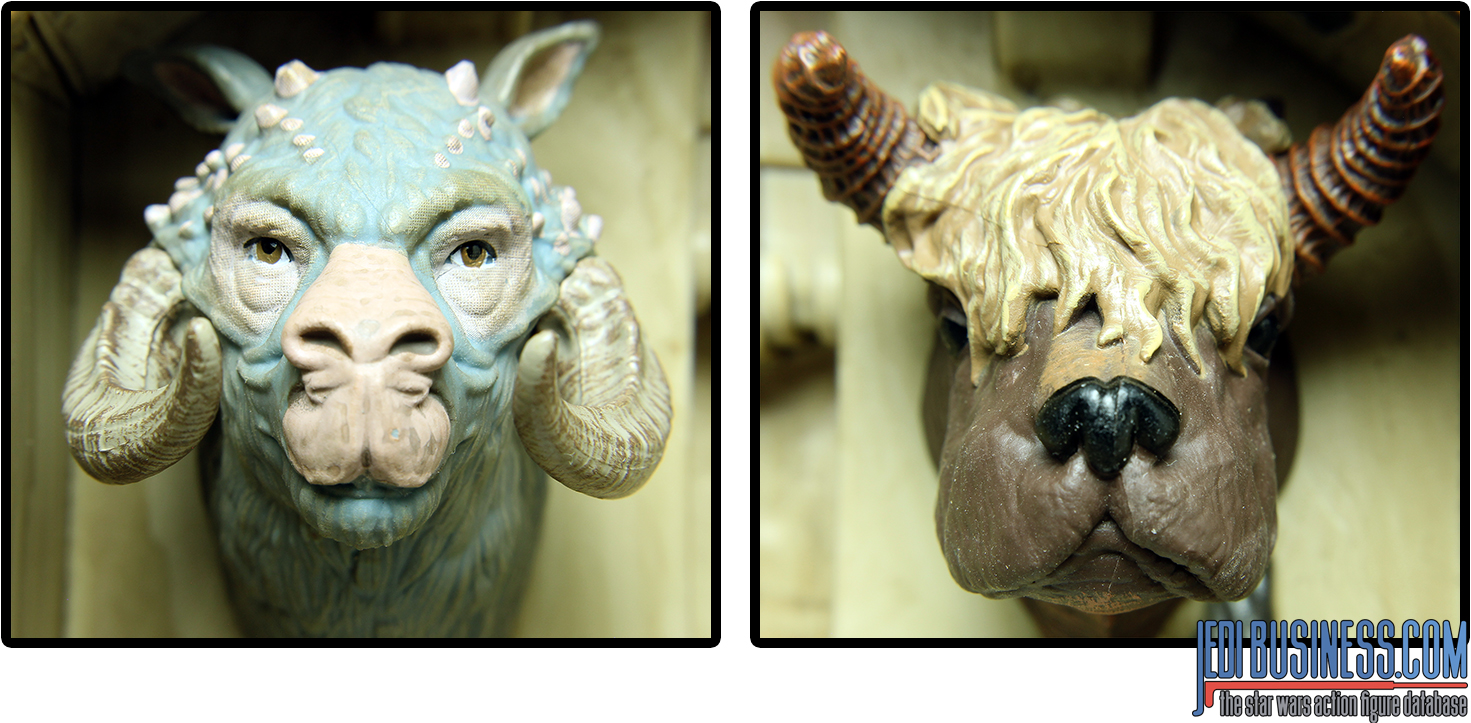 The back of the playset has a lever which moves a magnet up and down, this way Han Solo's Carbonite Block can be moved. This works very well and the Carbonite block looks cool "floating" up against the wall. The details sculpted into the playset look nice, there are vents on the floor and the ceiling, a panel with buttons on it and the dirty wash on the walls gives it the used look which we all remember from Jabba's Palace.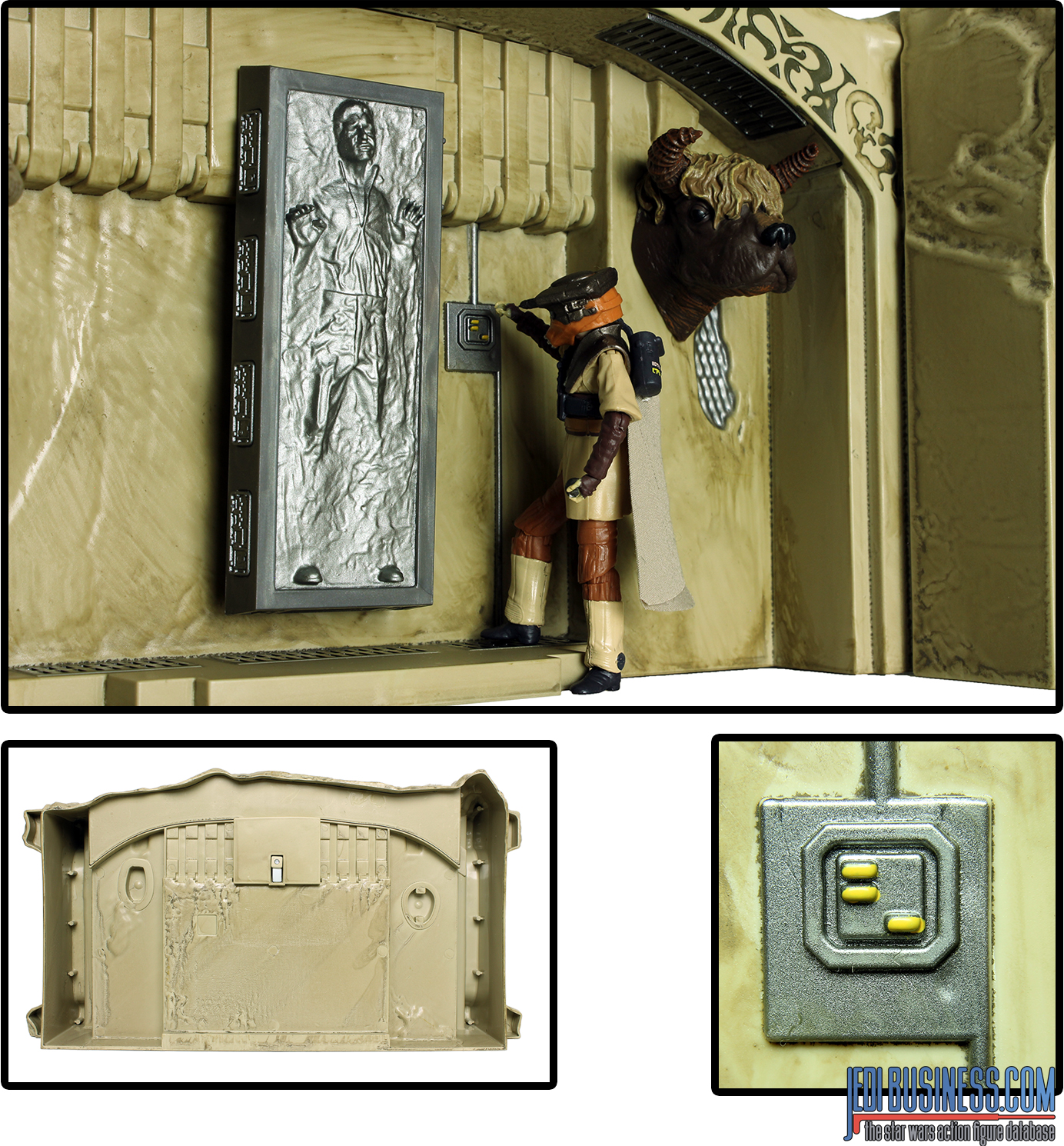 The Jabba's Palace Adventure Set is a fantastic display piece at a fair price. Considering that a basic 3.75" Star Wars figure currently costs between $12.88 and $13.99, this entire set is a great deal and a wonderful addition to the Star Wars collection.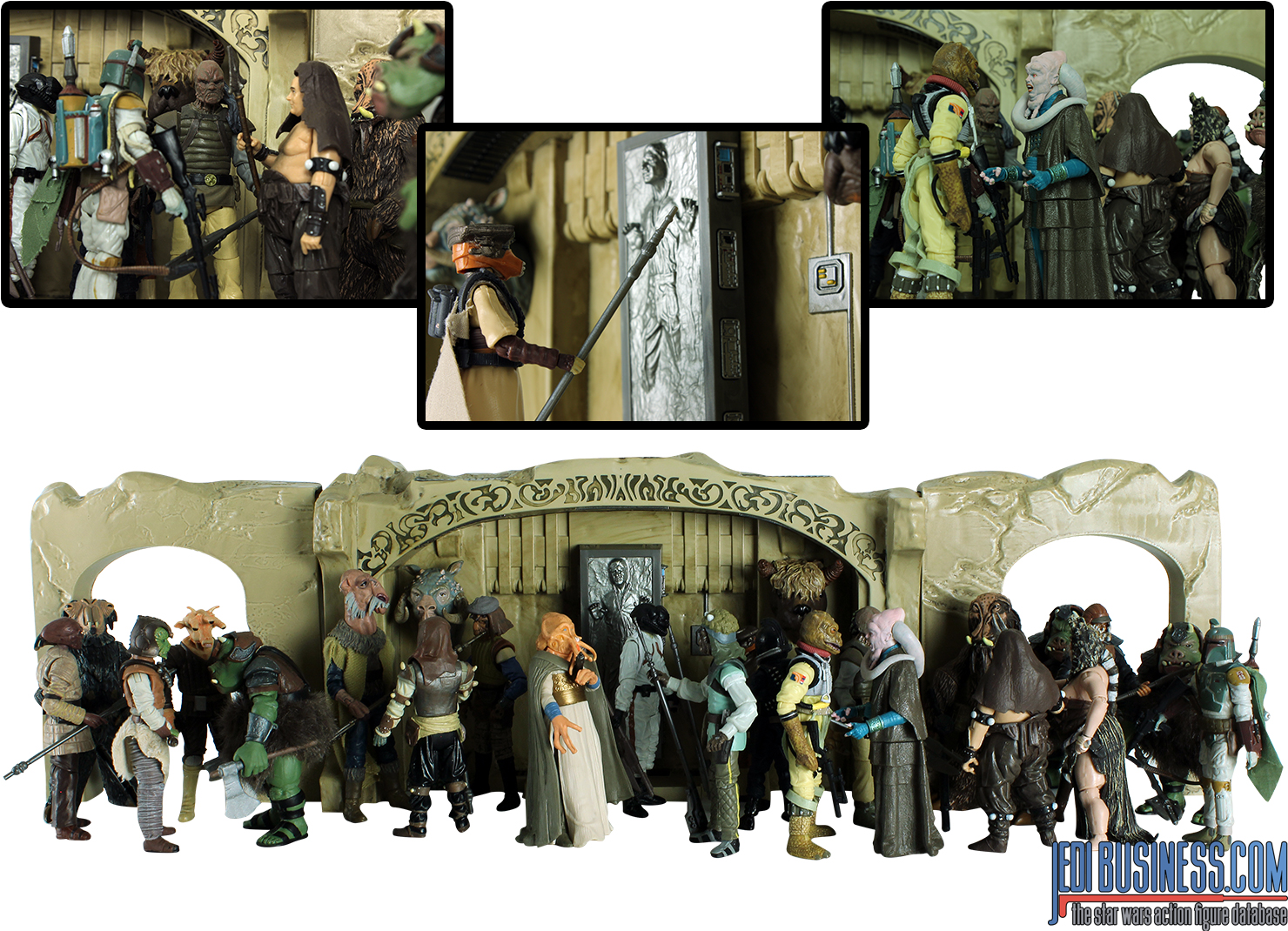 More information about Jabba's Palace Adventure Set: