Collectors had been worried about a drastic change to the beloved 3 3/4" Star Wars: The Vintage Collection packaging when Hasbro announced that they aimed to go plastic free by the end of 2022. Today Hasbro announced that the Star Wars: The Vintage Collection, along with the Star Wars: The Retro Collection, will stay unchanged from its current look. This is great news, and thank you Hasbro for listening to the community in this regards. The Star Wars: The Black Series however will see a packaging change with the plastic window on the front removed, have a look at Hasbro's letter below please.
At Hasbro, we have set a goal to eliminate virtually all plastic from new, single-use product packaging by the end of 2022. The company is currently on track to meet its industry-leading goal, reducing the use of virgin plastic by an estimated 19.5 million pounds annually. 
What does this mean for products from fan-favorite Hasbro brands?
You may have already noticed the transition to new plastic-free packaging within some kid-focused figures, and most 6-inch figures will transition to plastic-free packaging by early 2023. Today, we wanted to give you an early look at what to expect.
We've included a few examples here of what the new plastic-free packaging will look like across several brands. This includes an example of a Stormtrooper figure from the 2020 Star Wars: The Black Series line, as well as the G.I. JOE Classified Series Kamakura, Marvel Legends Series 6 Inch X-Men 90s Animated Series, and Marvel Legends Series Spider-Man Beyond Amazing: Iron Spider & Amazing Fantasy #15, all available now for order or pre-order. The Power Rangers Lightning Collection lines will reveal new plastic-free packaging in the coming weeks.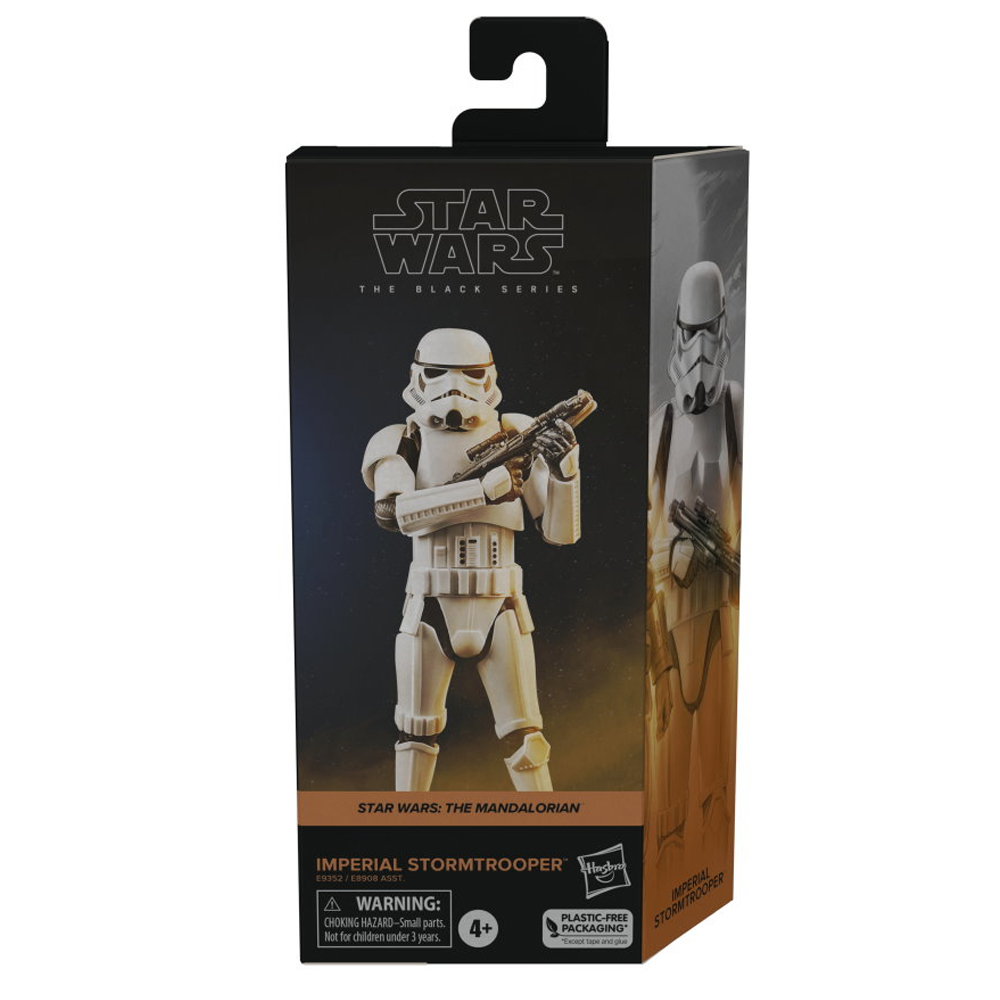 As part of the shift away from window boxes, you'll see highly detailed artwork and exciting new imagery on each package featuring iconic characters and their figures inside. This includes new packaging art that will showcase the articulation and poseability of each figure.
Our goal does not include packaging for fan collectible products like 3.75" action figures, where packaging is part of the product experience and typically retained intact for fan display and collections. Those lines include Star Wars Vintage and Retro, as well as other collectible brands such as Marvel Retro and the G.I. JOE Retro. In support of Hasbro's lower carbon strategy and upcoming science-based targets, our fan collectible blister packaging will continue to be made with either plant-based or recycled PET content.
Hasbro, with the support of its collaborators, is committed to doing what's right for the future of the planet and looks forward to having its fans along for the journey.
Thank you again for the continued support!
Hasbro
So that's your 411 and this is wonderful news for collectors of the 3 3/4" action figure lines. For collectors of the Black Series 6" mural packaging it's a different story. The mural on the side of the packaging will stay unchanged, as does the back, but obviously with the plastic window removed on the front  it will be impossible to see the figure inside. Will this make a difference for collectors in the age of online ordering where you don't get to see the figure to begin with? It certainly will effect people who display the figures facing forward, but it will likely not be a deal breaker for the majority of collectors.  We'll see how it all plays out once the packaging is available, which currently should be in Fall 2022/Spring 2023.