Hasbro held the first livestream of 2023 this morning on the Hasbro Pulse YouTube channel where they announced a ton of figures for the Vintage Collection, the Black Series and the Retro Collection. This summary below gives you an overview of what was announced. 
Key Take-Aways 
A strong showing for TVC with two vehicle announcements
Hardly any pre-order dates given (nice, we all need a break!)
TVC Troop Builder 4-packs are now $55.99 moving forward
No price listed for Ki Adi-Mundi for 2024, indicating another price increase for basic TBS figures?
The Vintage Collection
For the Vintage Collection the team announced that they will be releasing an N-1 Naboo Starfighter from the Mandalorian TV series, along with a Speeder Bike and Scout Trooper based on the popular tv show. Both vehicles were pipeline revealed and a specific release date or price was not announced yet, which means both will likely slip into 2024. There is no word yet if the N-1 will include a figure either, as was the case with recent vehicle releases. These announcements are great news for collectors because both vehicles, specifically the N-1 Naboo Starfighter had been on collector's wishlists for an entire year and we haven't seen a whole lot of vehicles in TVC lately.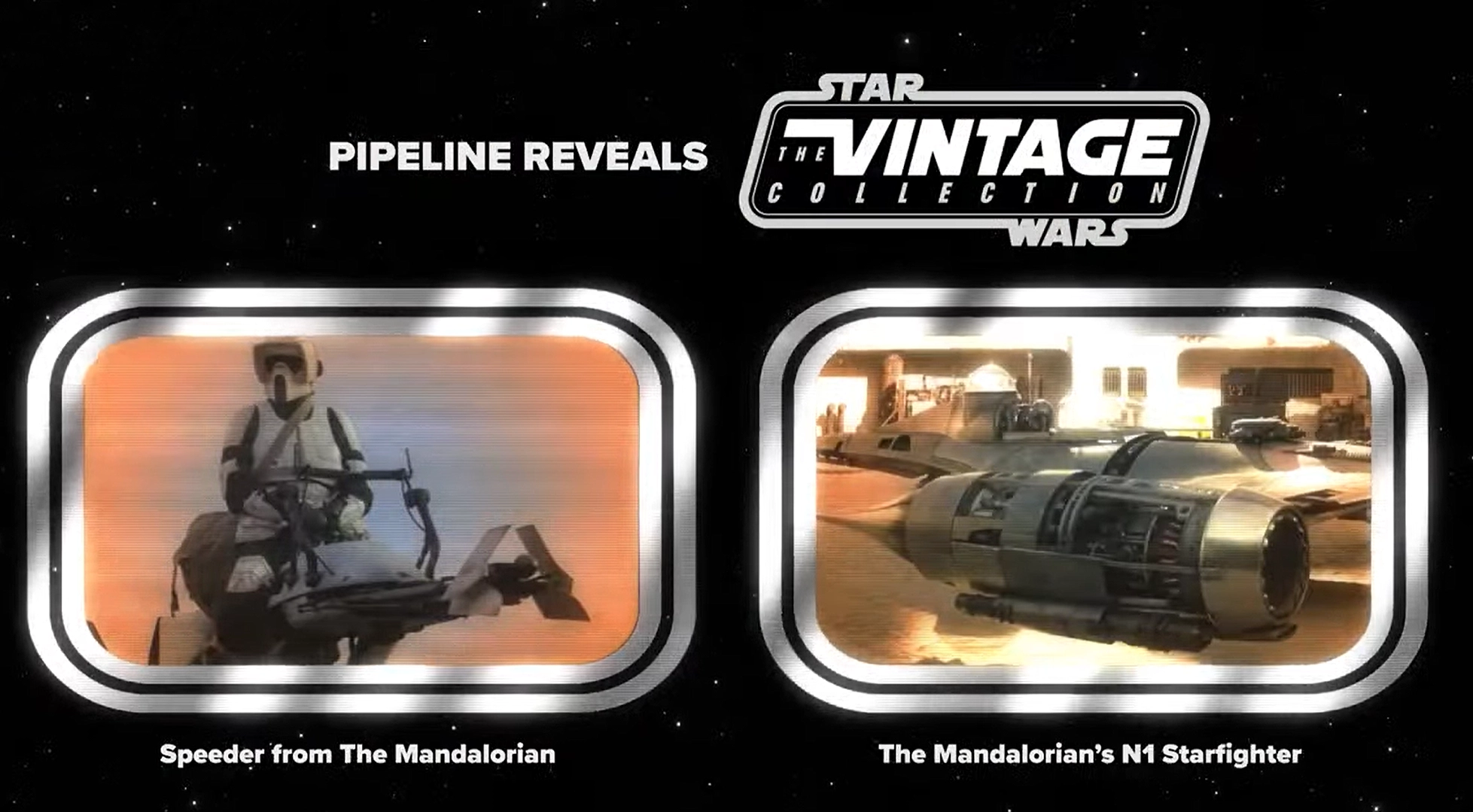 Even though many figures had been pipeline revealed previously, this morning's livestream gave us a first look at some of them. The figures shown included Darth Vader (Death Star II, new helmet with no gaps between the dome, face mask and collar -> unclear currently what else is new or re-used on this one), Han Solo (Endor, partially new with all new parts from the waist up including the portrait), Admiral Piett (Return Of The Jedi, all new sculpt), Weequay (repack, but now with 40th JEDI logo on the packaging), Captain Howzer (repack, but with correct name in the name pill), Phase II Clone Trooper (all new sculpt, comes on an Andor card), 212th Clone Troopers (including Lieutenant Waxer, part of the troop builder 4-pack) and Galen Marek aka Starkiller (re-pack with photo real update).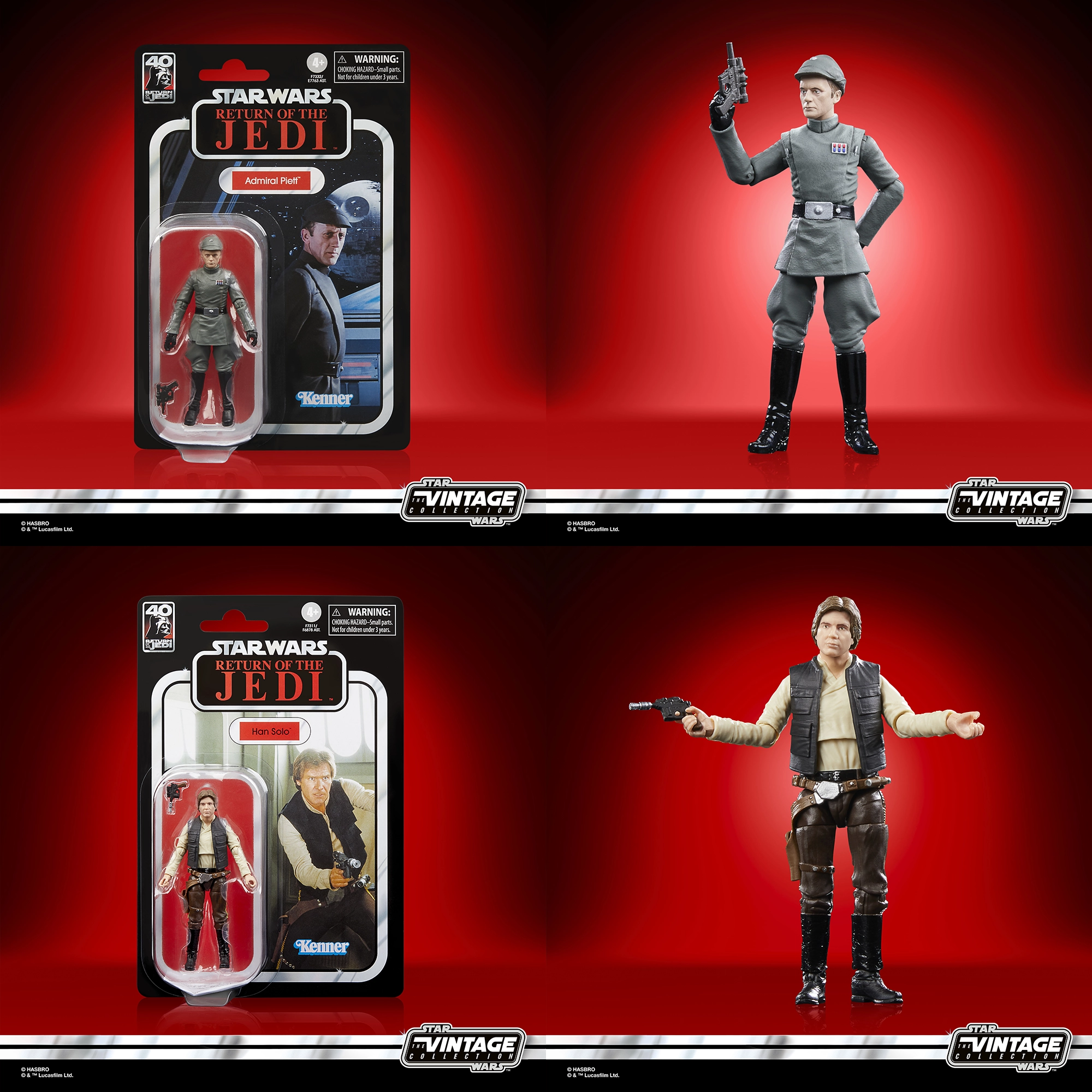 Admiral Piett will feature an entirely new sculpt which means we will likely see other updated Imperial Officers in the future. The same goes for the newly sculpted all-white armored phase II Clone Trooper (and the 212th Battalion 4-pack). 
The cardbacks for Darth Vader, Han Solo (Endor) and Admiral Piett looked especially nice. It was a bit of a surprise to see the phase II Clone on an Andor card, but considering that there are hardly any Andor figures in TVC that's not a bad decision (and we'll likely see the Clone repacked in the future anyways, right?)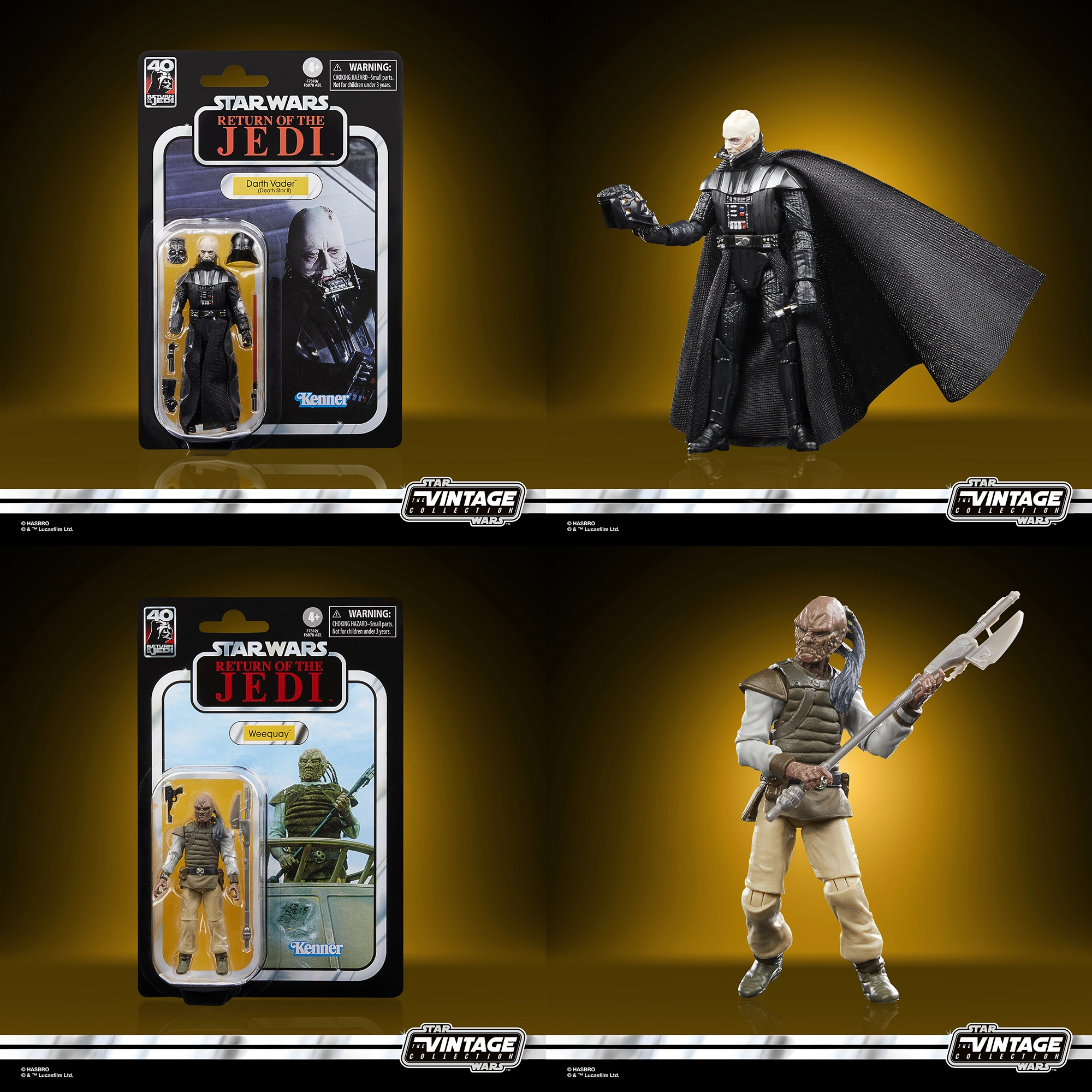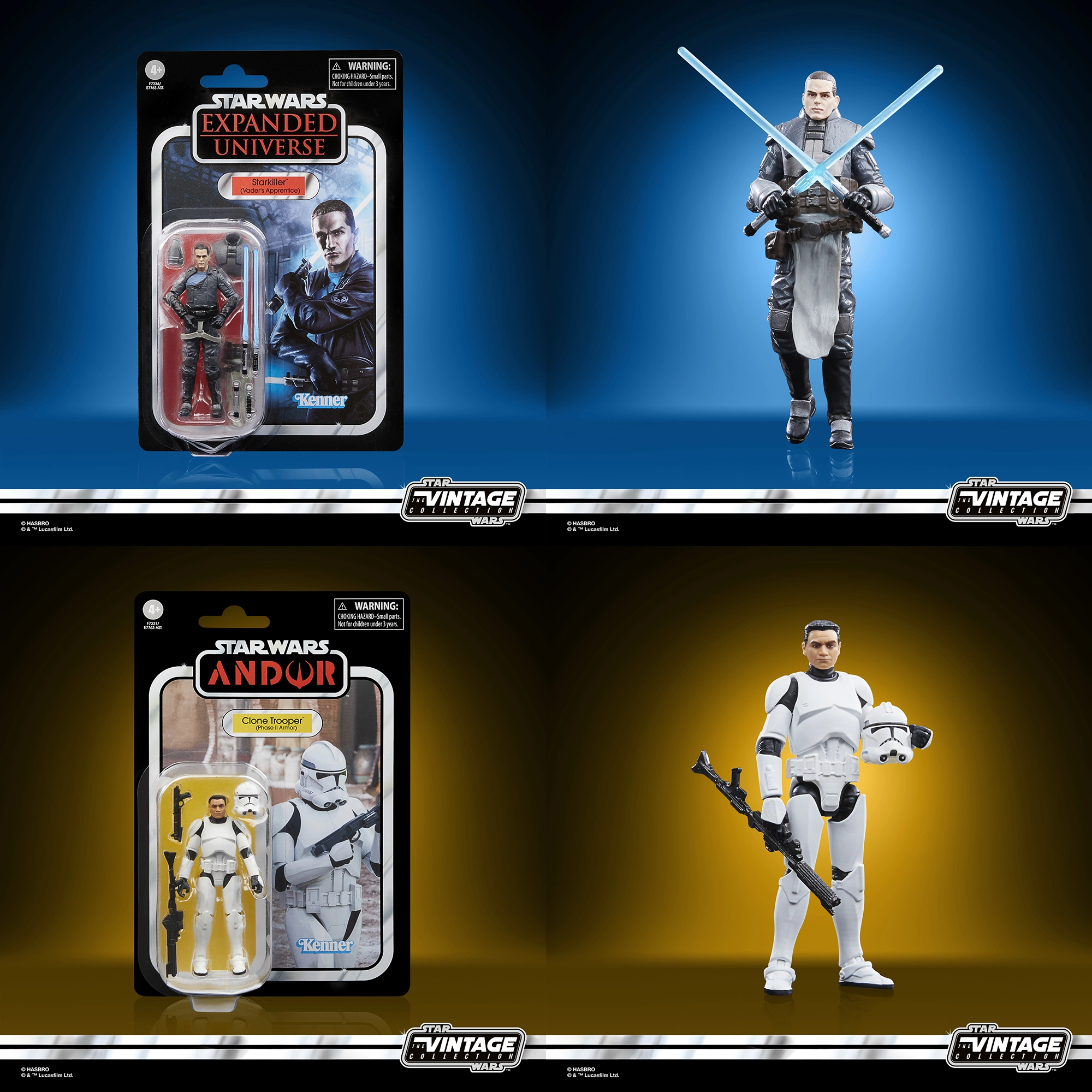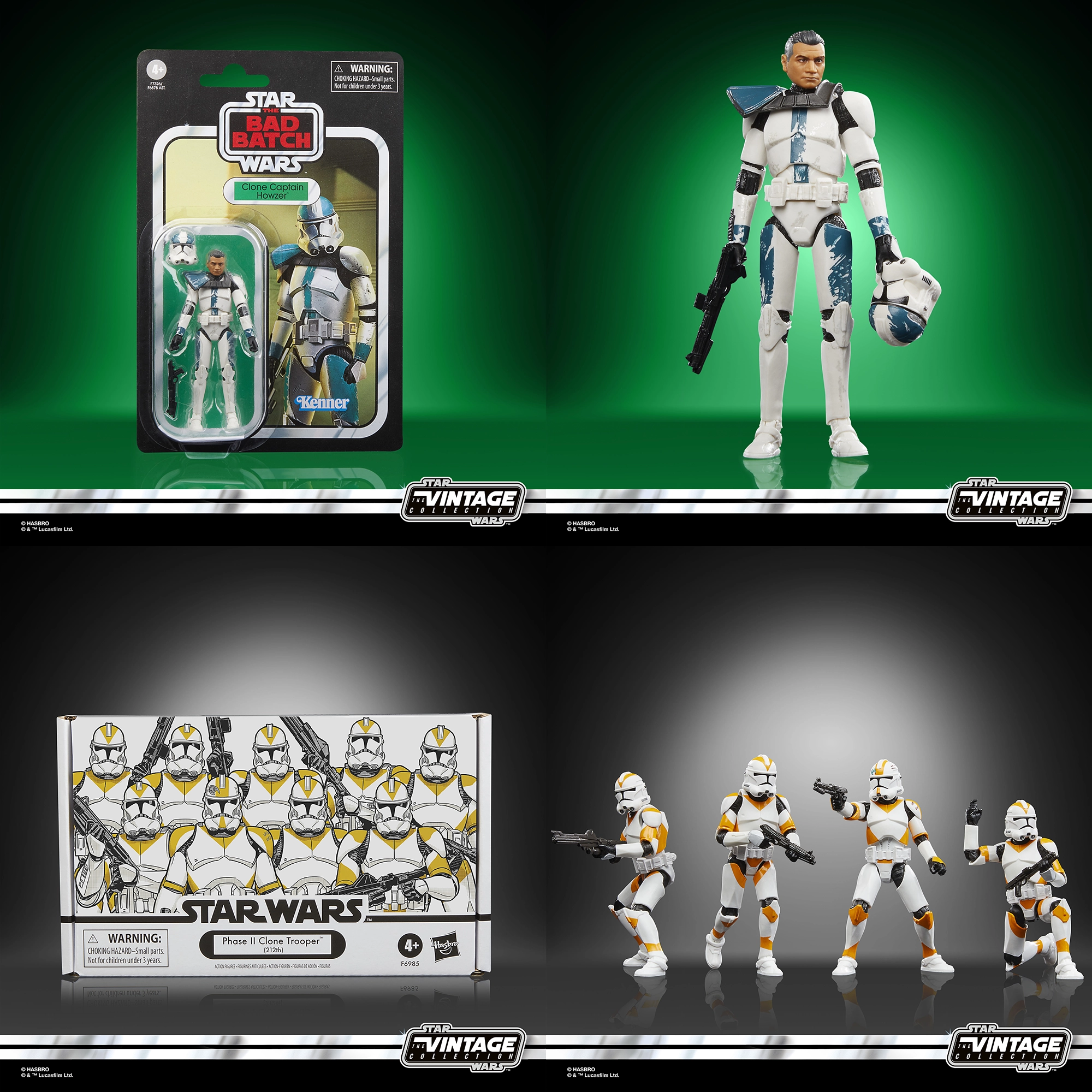 The price for the 212th Battalion 4-pack was a bit of a surprise, it'll retail for $55.99 plus tax and is exclusive to Hasbro Pulse and ShopDisney.com. When this line of figures was announced on September 8, 2021 the retail price was $41.99.  
It was too early to show prototypes but the team did pipeline-reveal Luke Skywalker (in Training Gear) from the Book Of Boba Fett and a 2-pack with Obi-Wan Kenobi and a battle damaged Darth Vader from the Kenobi TV series. Knowing how well the latest version of Obi-Wan and Vader in TVC have turned out this is pretty exciting and could look great in package.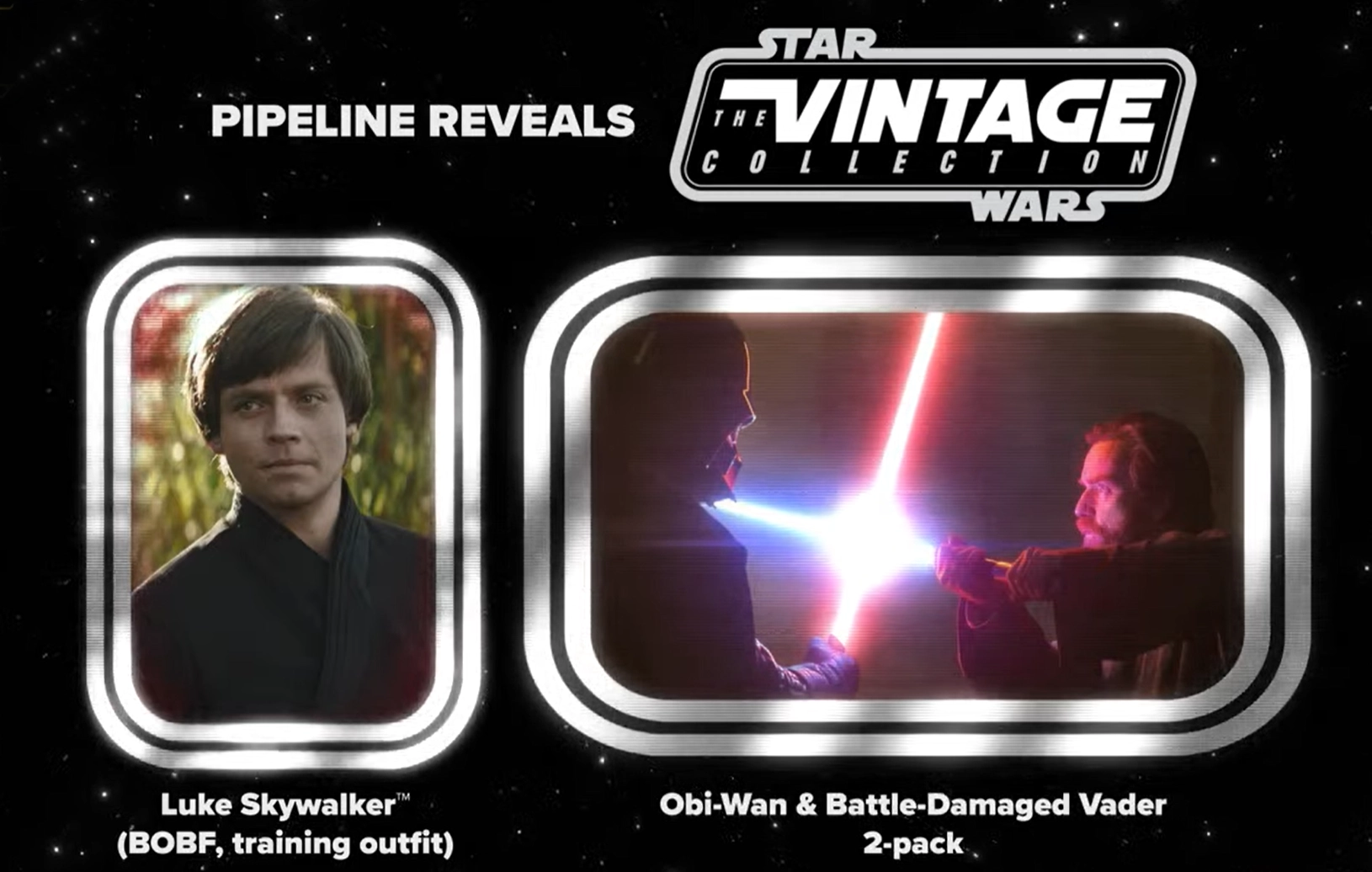 The Black Series
The first figure shown for the 6" scale was the Star Wars Celebration London 2023 exclusive figure, which is a repainted Darth Vader in Revenge of the Jedi tribute packaging. Hasbro will also include a mini poster with stand with the figure, it'll cost $33.99 (waiting to hear back how much this will retail for in UK pounds and how it will be made available in hte United States).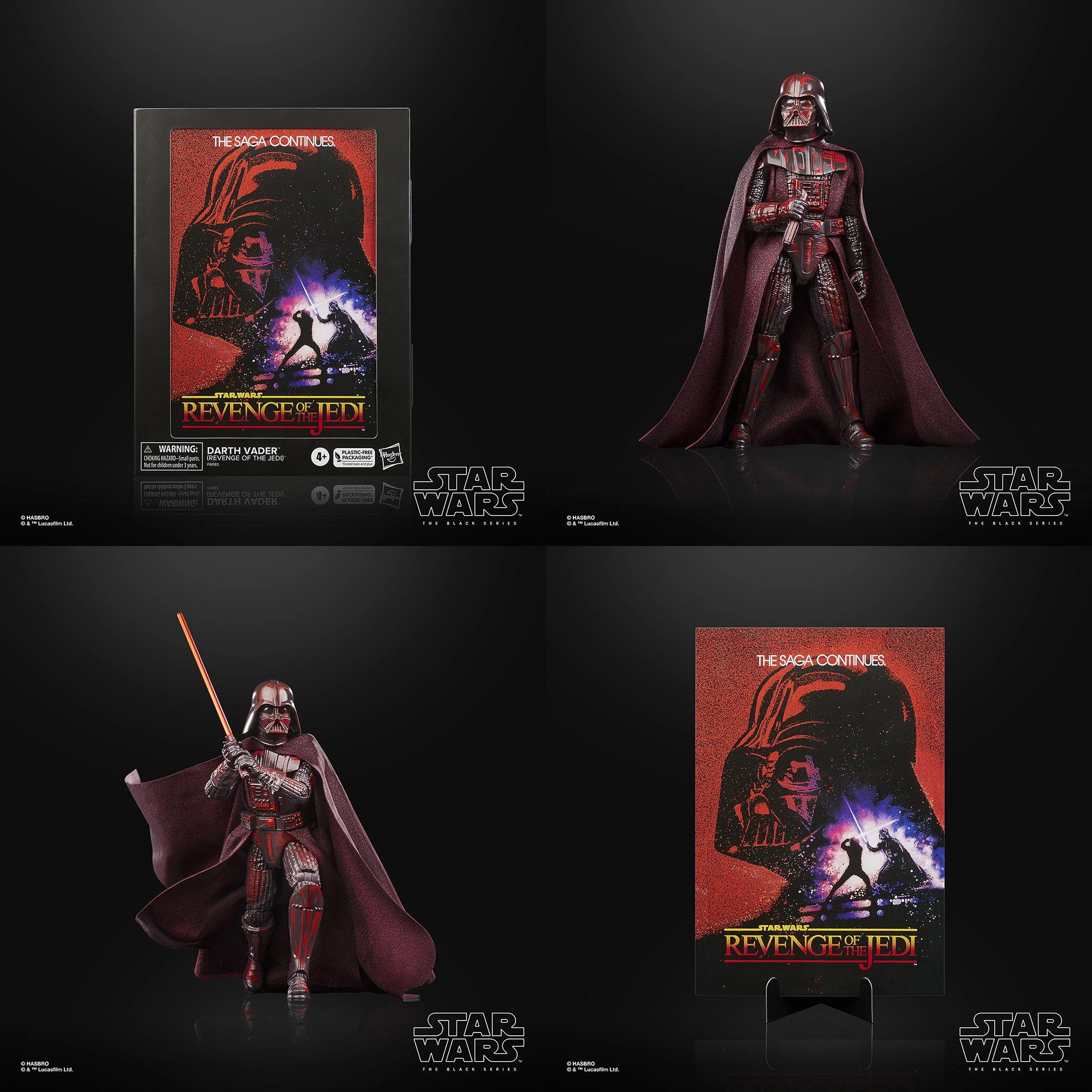 The Rebel Commando had been pipeline revealed previously but now we got our first look at the figure. Just like the Hoth Rebel trooper from a few years ago this version of the trooper will include two different faces and a lot of accessories. Unfortunately the retail price is pretty high at $33.99 for this figure (remember, the Hoth Trooper only cost $19.99 just a few years ago), but it does look great.
Other Black Series 6" figures shown included Jedi Master Ki-Adi Mundi and Clone Commander Jesse. Surprising was that Ki-Adi Mundi will not be released until 2024. Jesse on the other hand will be out later this year for $27.99, it is a Walmart exclusive figure and goes up for pre-order on March 16, 2023 during Walmart Collector Con.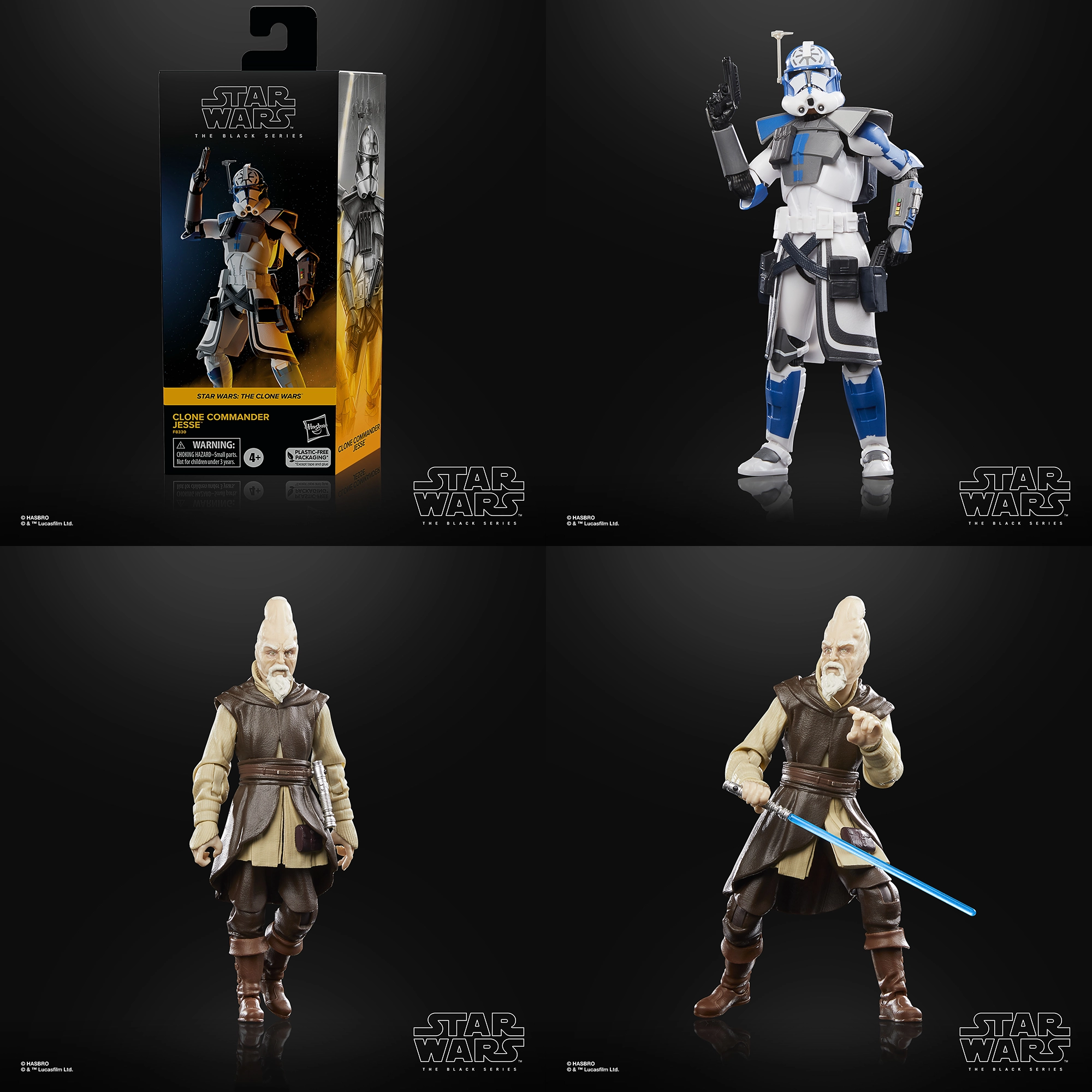 The Star Wars team announced three figures as being in development with Luke Skywalker & Grogu and Darth Malgus (Deluxe), along with a role playing Ahsoka Loyalist helmet. Expect those figures and the bucket to be out in early 2024.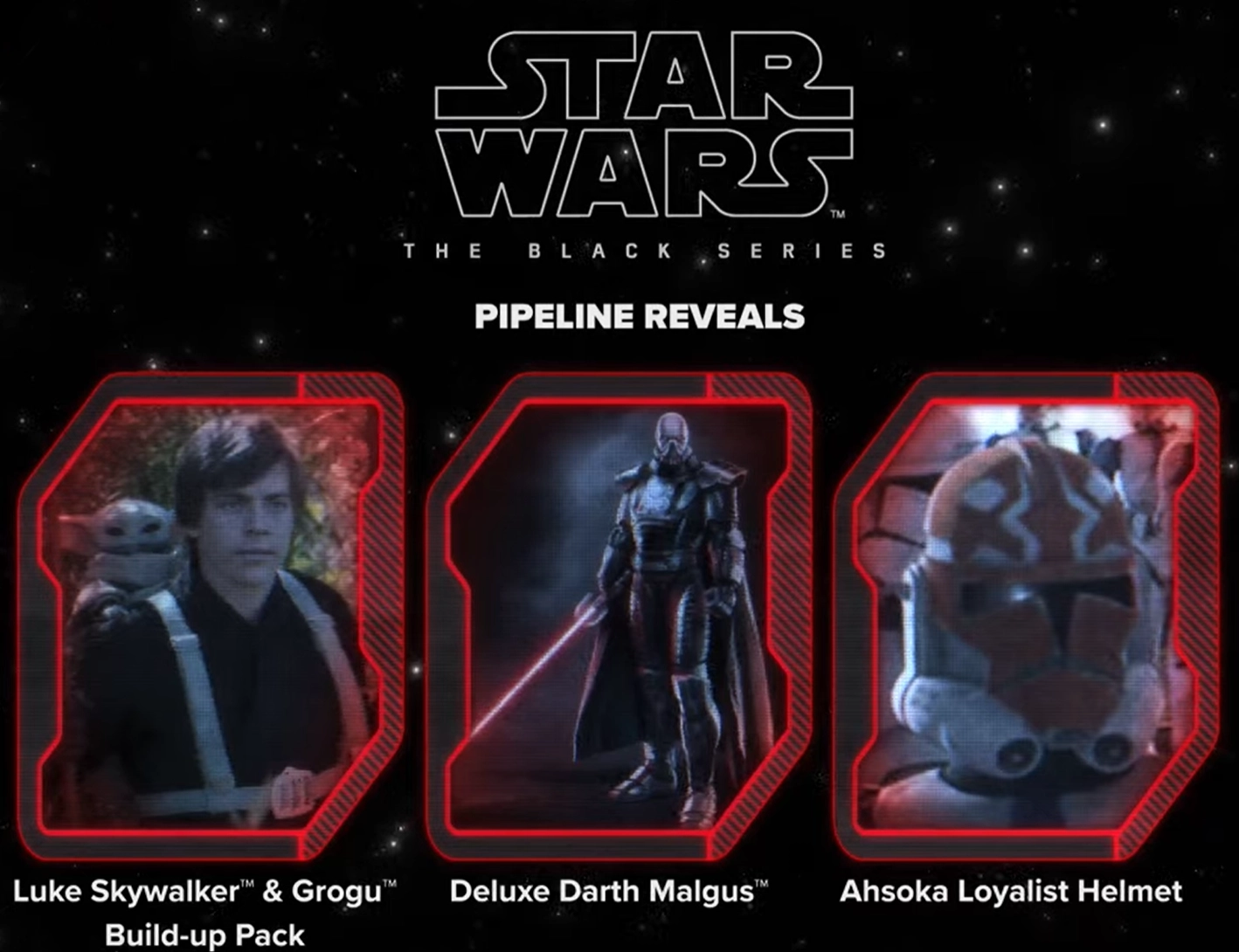 The Retro Collection
For the Retro Collection Hasbro announced a new Target exclusive funky colored "Prototype Edition" figure, and that is the Mandalorian himself! Just like previous figures there will be a total of six different ones to collect. Hasbro, just a side note, how are people supposed to collect all six when there is a limit of two online and none of them can be found on store shelves? Either way, if you are into these funky colored 3 3/4" figures, look out for Mando to be released in the Spring of 2023 exclusively at Target for $14.99.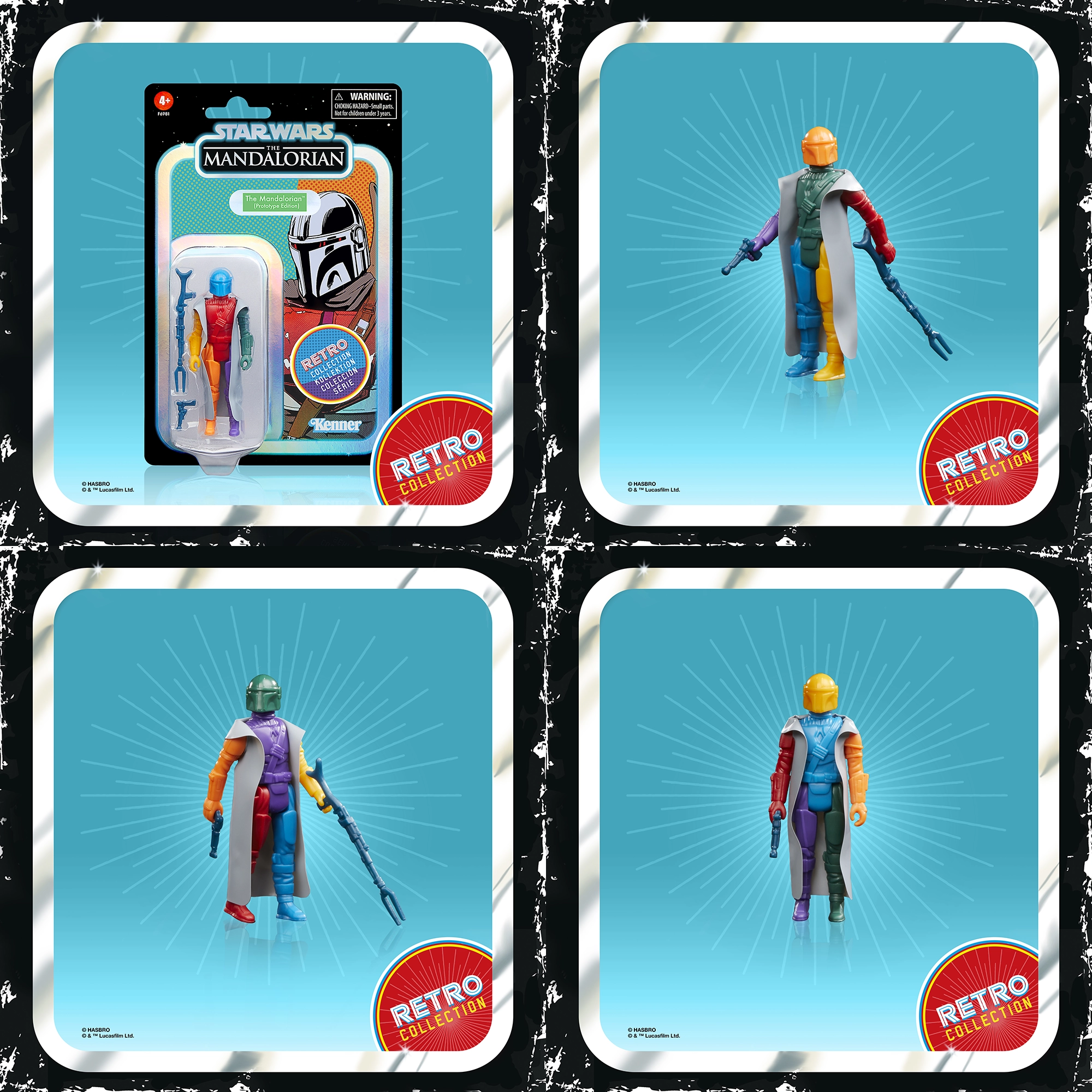 Last but not least it was announced that the Book Of Boba Fett will see some Retro love with an entire wave of figures dedicated to the TV series, including Boba Fett (Nomad), Tusken Raider, Fennec Shand, Black Krrsantan, Cad Bane, Luke Jedi, Grogu and the Mandalorian.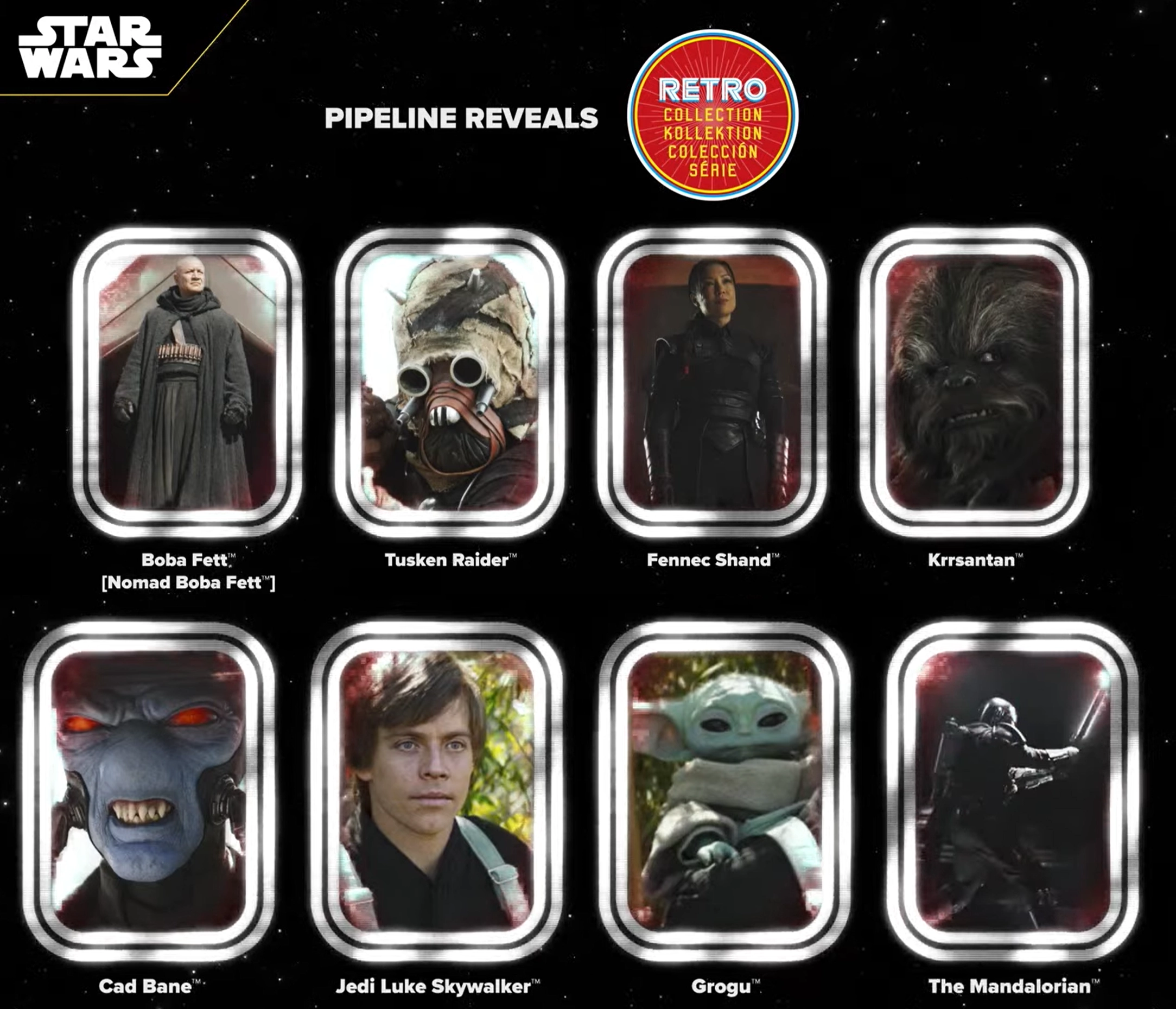 Summary
This morning's livestream was pretty good with lots of cool stuff coming our way. The N-1 Naboo Starfighter was high on collector's wishlists, the new Imperial Officer and Phase II Clone sculpts looks great and much more accurate than previously. The Mando Speeder Bike makes sense and we've been wondering why such a vehicle hadn't been released a year ago, but we are finally getting it! The cardbacks, especially for the ROTJ figures, looked great and how can we not be excited about Luke in Training Gear from TBOB or the Kenobi vs. Vader 2-pack? The Black Series will also see some cool figures, Darth Malgus in particular should make a lot of fans happy. And the Retro Collection is going to see more figures as well, we are big fans of this line of figures here, so bring on Krrsantan and Cad Bane in this line, awesome!