Hasbro has sent this 7.5-inch-tall (29 cm) Chatter Back Chopper here to the studio for review which is very exciting! Back on August 21, 2023 the Toy Association announced that the droid is nominated for best action figure of the year (which rewards active, imaginative, and narrative-based play), and that obviously added to the excitement of getting to take a look at the toy, so let's dive into it!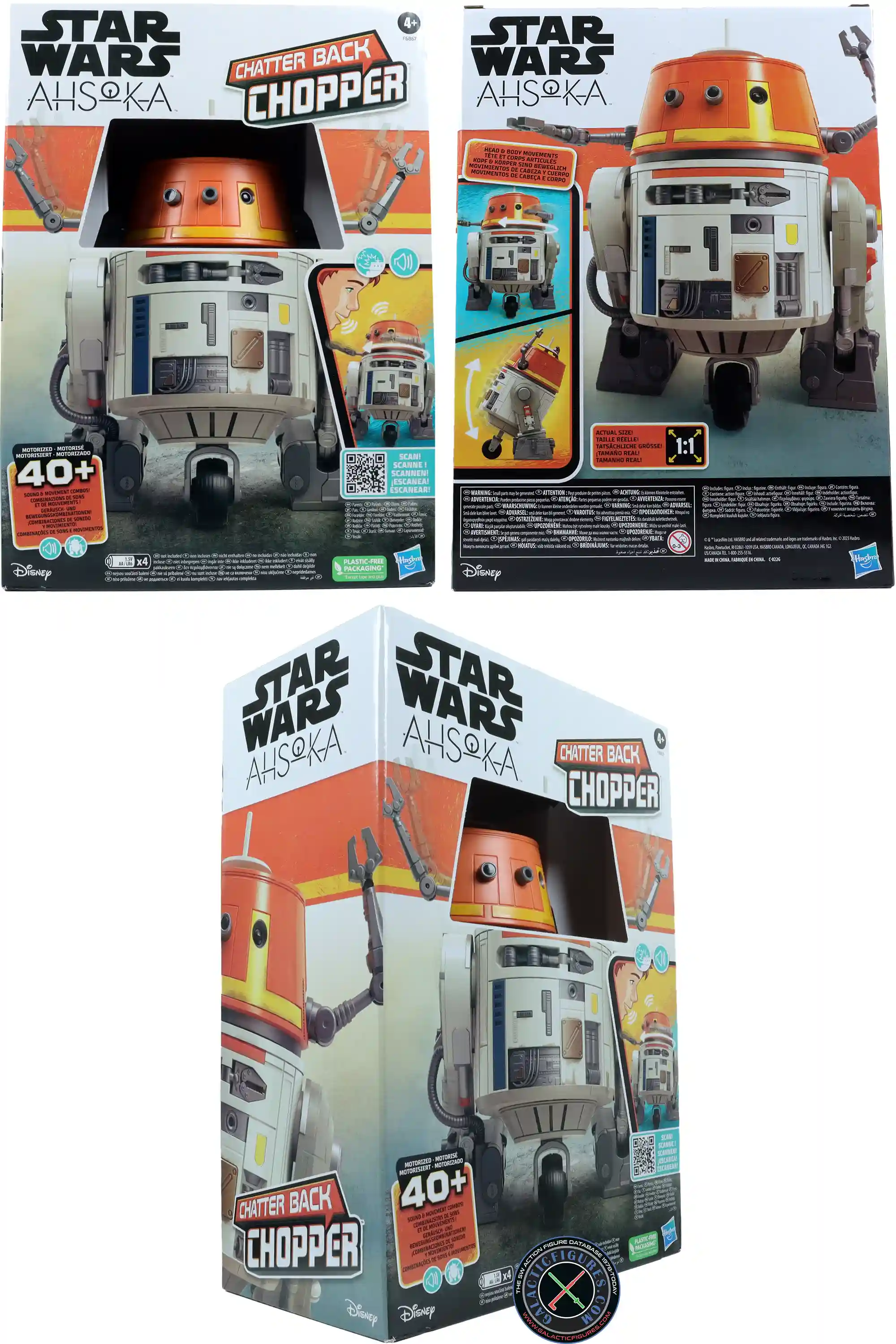 There is nothing which you need to assemble, simply open the box and pull the droid out gently. You will however need to place four AA batteries into the battery compartment and Chatter Back Chopper is ready to provide you with hours of enjoyment and entertainment.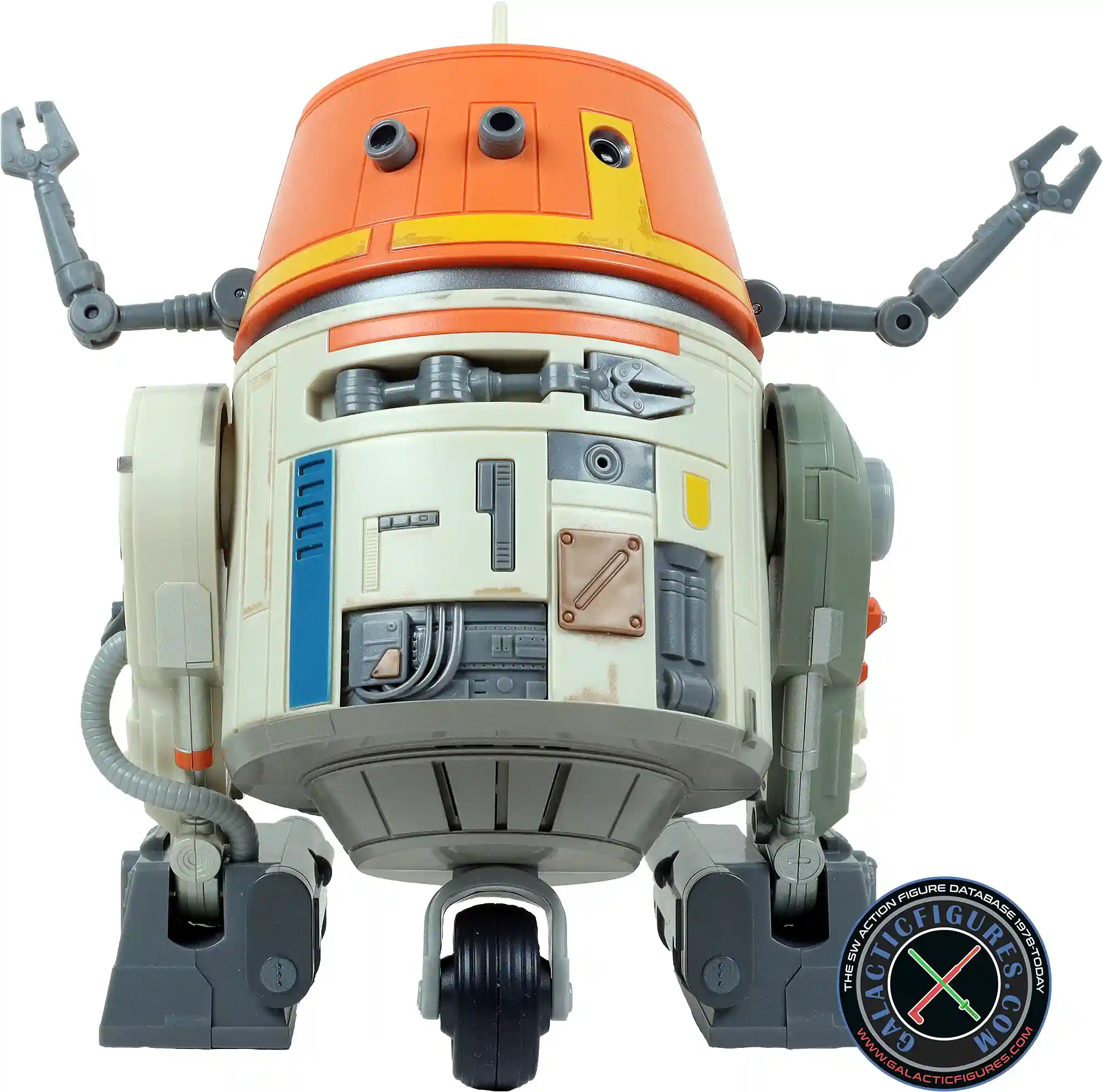 What does he do, or what doesn't he do?
Chopper can't roll around, but he can wobble from side to side and raise his arms in outrage and he is very vocal with his responses. Chopper answers to background noises like talking, clapping, or music with different combinations of droid sounds and motorized movements and he flails his arms, moves his body, and turns his head just like the droid companion from the Ahsoka live-action series on Disney+.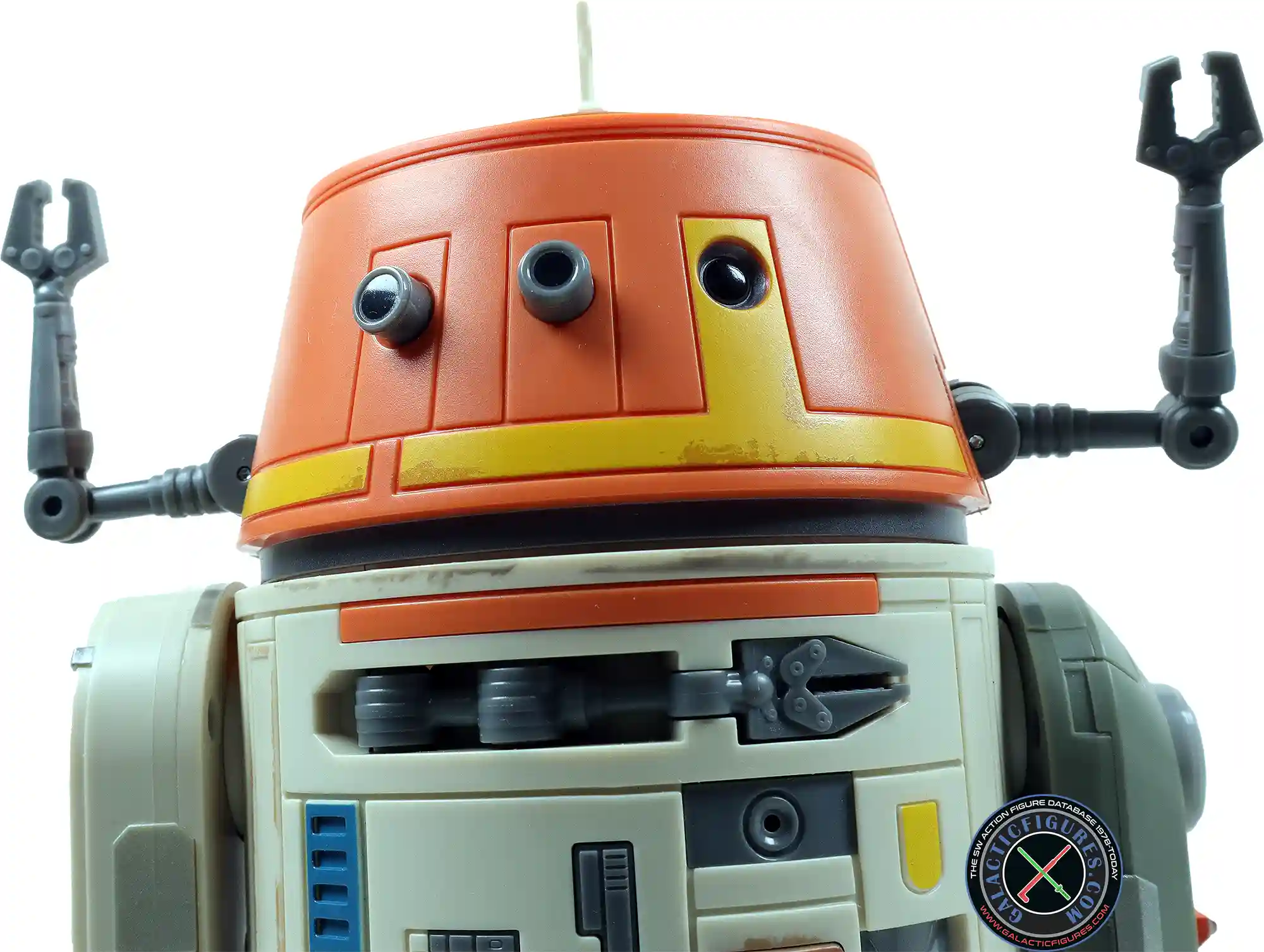 You have the option to manually adjust the outer legs: pull them back to create a dynamic mid-motion appearance, or align them straight to simulate a stationary stance. Although, standing still is not Chopper's favorite thing to do, he likes to move his arms and voice his concerns constantly. Located at the front is a manually extendable arm that, when pulled out, activates a corresponding sound effect (and why not add a post-it note to add an element of practicality?).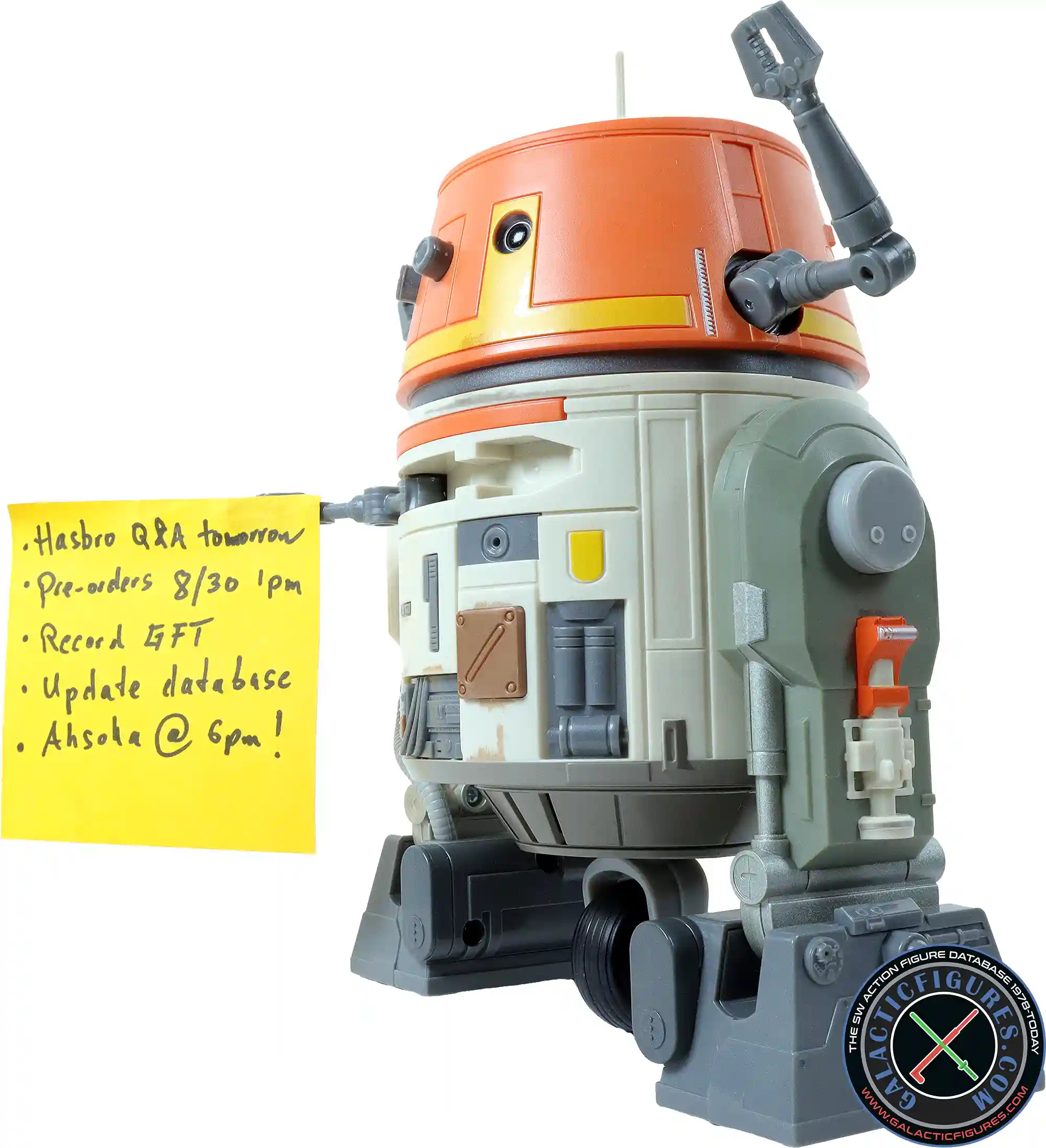 As indicated on the packaging, Chatter Back Chopper showcases an impressive array of over 40 sound and movement combinations. Remarkably, during a moment of stillness, it surprised everyone here by spontaneously breaking into a contagious fit of what must have been laughter LOL. My kids REALLY dig Chopper and my daughter already snatched him up for her room where he found a place next to Hasbro's D-0 and L0-LA59 droids. 
If you ever want to turn Chopper off, simply hold the button on the front down. Besides all the built-in functionality, the sculpt of the droid looks great and it's a remarkable recreation to the on-screen counterpart in Rebels and Ahsoka. So even when Chatter Back Chopper is turned off he still delights the room just by being on display.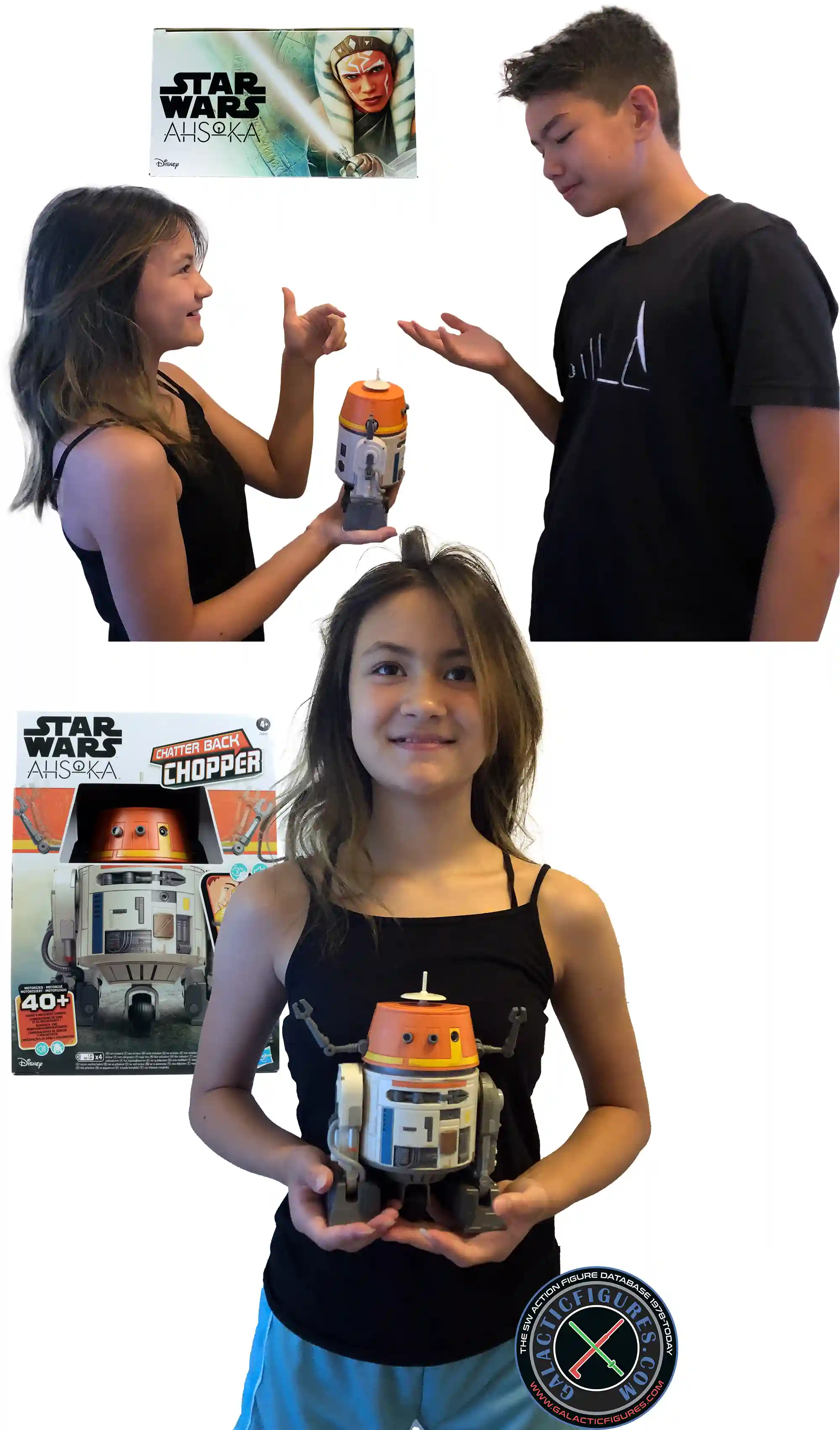 The Ahsoka tv series is on all of our minds currently with new episodes being aired on Disney+ every Tuesday at 6pm PT, and what better way to celebrate the show, or its precursor Star Wars: Rebels, with a fun Chopper desk buddy next to your screen? You can pick one up for yourself on HasbroPulse.com, Amazon and most major retailers. Thank you to Hasbro for providing Chatter Back Chopper for free for this review!