9/11/2015
Here is a re-cap of everything which was going on over Force Friday weekend (September 4 - 7, 2015).
A World-Wide Celebration Of Star Wars Toys
Leading up to Force Friday was the world's first ever global live toy unboxing event. It unfolded over 18 hours spanning 15 cities in 12 countries. Fans saw a range of epic merchandise reveals in a rolling New Year's Eve style celebration which featured YouTube personalities from the Maker Studios network.
The Toys'R'Us flagstore in New York City hosted a special event where fans could meet super collector Steve Sansweet and learn how to sketch from Star Wars artist Jeff Carlisle. Display cases in the store showcased Star Wars treasures from Steve Sansweet's Rancho Obi-Wan. Our friends at Star Wars Action News have great coverage of this event, including interviews with Steve Sansweet, Jeff Carlisle and people in the crowd.
Disney gave fans an opportunity to be among the first to purchase new Star Wars and Star Wars: The Force Awakens themed merchandise, including Disney Theme Park merchandise exclusives at Disneyland's World of Disney Store (Downtown Disney District) and Disney World's Once Upon A Toy store (Downtown Disney Marketplace). Tickets for Disney's Force Friday merchandise event cost $50 per person and included a Force Friday messenger bag.
Celebrating Force Friday Locally
Star Wars Force Friday was a lot of fun overall. There were about 100 people in line at the Tukwila Toys'R'Us location in Washington. The crowd was full of familiar faces including Tom Berges (IGrewupStarWars.com), Jason Luttrull and Ryan Beise (Galaxy Of Toys Podcast), Gus Lopez (theswca.com) and Chris Pirillo (who made it back in time from the Star Wars un-boxing event in San Francisco).
The first 50 people in line received a Force Friday button from JediBusiness.com. A popular topic in line was the BB-8 App-Enabled Droid by Sphero, which apparently sold out in minutes after it became available online.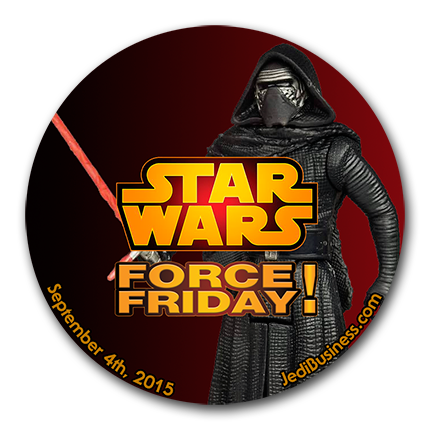 When Toys'R'Us opened their doors, employees handed out two different posters and an exclusive Lego brick. Unfortunately, not everything went smoothly: Toys'R'Us was understocked in the 3 3/4" and 6" Star Wars action figure lines, and many fans left disappointed and empty-handed. Many of those who had waited for a long time at the front of the line had no chance of getting their hands on any of the new Star Wars action figures.
As it turned out, Toys'R'Us wasn't the only retail store which was understocked with Hasbro Star Wars action figures. Target and Walmart stores also had limited supplies and couldn't fill the demand. The Tie Fighter for 6-inch figures or the new Millennium Falcon for 3 3/4 inch figures were nowhere to be found.
It's a real head-scratcher why Hasbro wasn't able to supply stores with more Star Wars action figures on launch day, especially since this event has been advertised since April, almost 6 months ago.
The Disney Store in Bellevue, WA opened at 6am Friday morning, giving fans a chance to get their hands on exclusive Disney Star Wars merch. The first 100 people received an exclusive The Force Awakens pin, and the store was fully stocked with the fantastic 7inch die-cast metal figures, die-cast model ships, all sorts of clothes and role play items and three new big talking figures (Kylo Ren, Finn, Stormtrooper).
Even though the lack of Star Wars action figures on store shelves put a damper on the event for many, it was still a blast to get out there and be part of the toy launch for a new Star Wars movie. A new Star Wars film - does it get better than that?!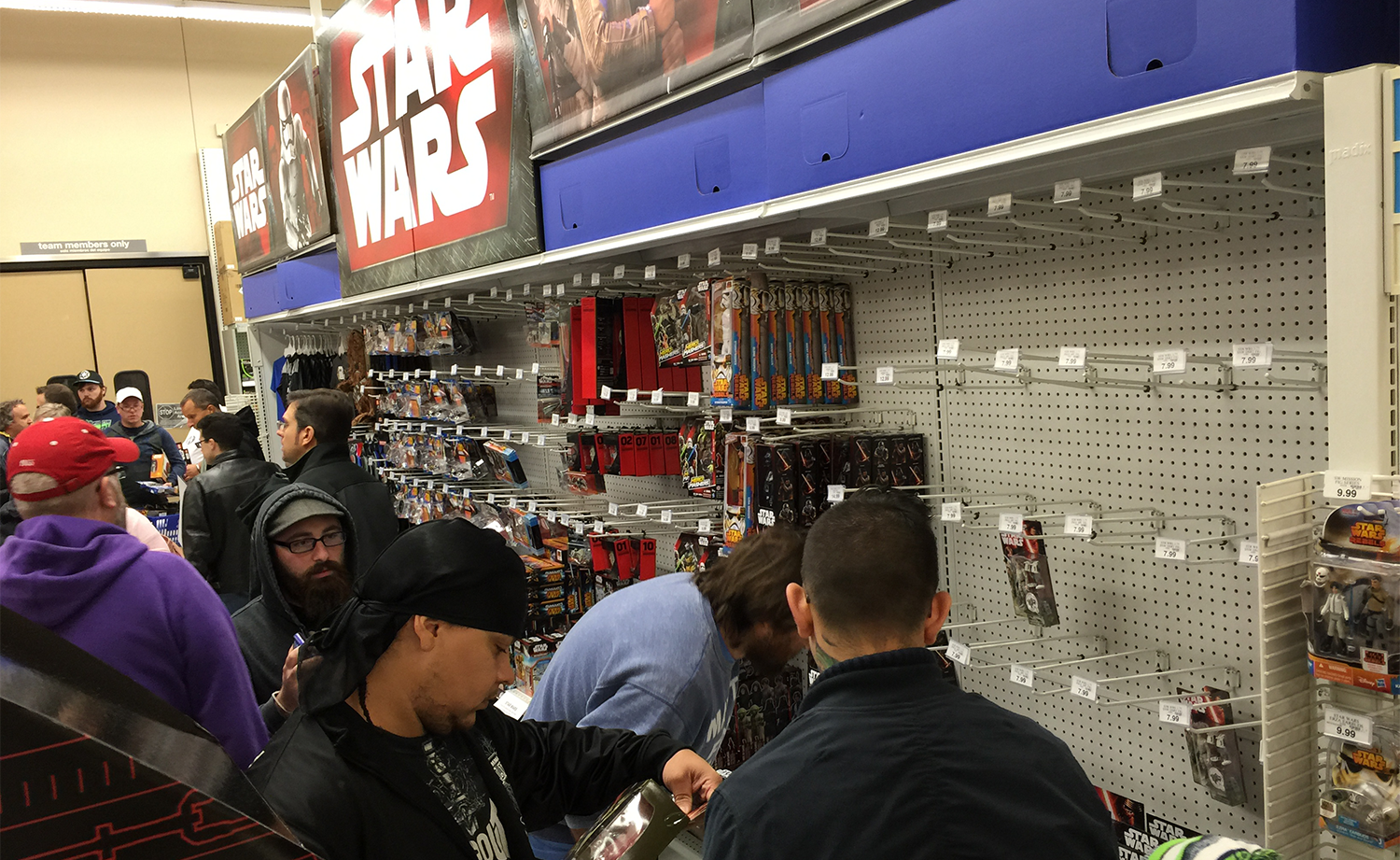 Hasbro Star Wars Action Figures were all gone after 5 minutes
Galaxy Of Toys Podcast - Episode 49: Force Friday & Beyond
Listen to the Force Friday recap! Jason, Tom, Criz Bee & Jake are joined by Steve Glosson from Geek Out Loud Podcast to talk about Force Friday and the Star Wars toys that were found.
Force Friday Sections
Check out our Force Friday content by clicking the links below. We had special coverage from the Force Friday celebration at Toys'R'Us in Ikebukuro-Sunshine City, Japan thanks to fellow collector Ryuma Hoshina and we asked our readers to share pictures with us of their Force Friday experience and received over 100 photos from around the world. We also posted Hasbro's press release of upcoming Star Wars action figures, and more information regarding the hottest toy of the Holiday season 2015: Sphero's BB-8!