2/28/2019
Welcome to our central hub for everything Jabba's Sail Barge from Hasbro's The Vintage Collection. Here you can learn about the history leading up to the first HasLab project, Hasbro's HasLab project itself, the announcements after it was funded and the final product.
It all started in 2013 with a fan petition for Hasbro to make Jabba's Sail Barge. This was spearheaded by Paul at JediTempleArchives.com with a dedicated page for the petition, and Jayson at Yakface.com who created the visuals and the packaging mock-ups of the Sail Barge which were used around the Internet to promote the campaign. The undertaking found widespread support in the collecting community and was much talked about for years after that. There were many emails exchanged behind the scenes and all 30 participating fan sites implemented a badge on their websites which linked to the original Jabba's Sail Barge petition. Here is a look at who supported the Sail Barge from the beginning in 2013 (look at the old and ugly JediBusiness logo :)):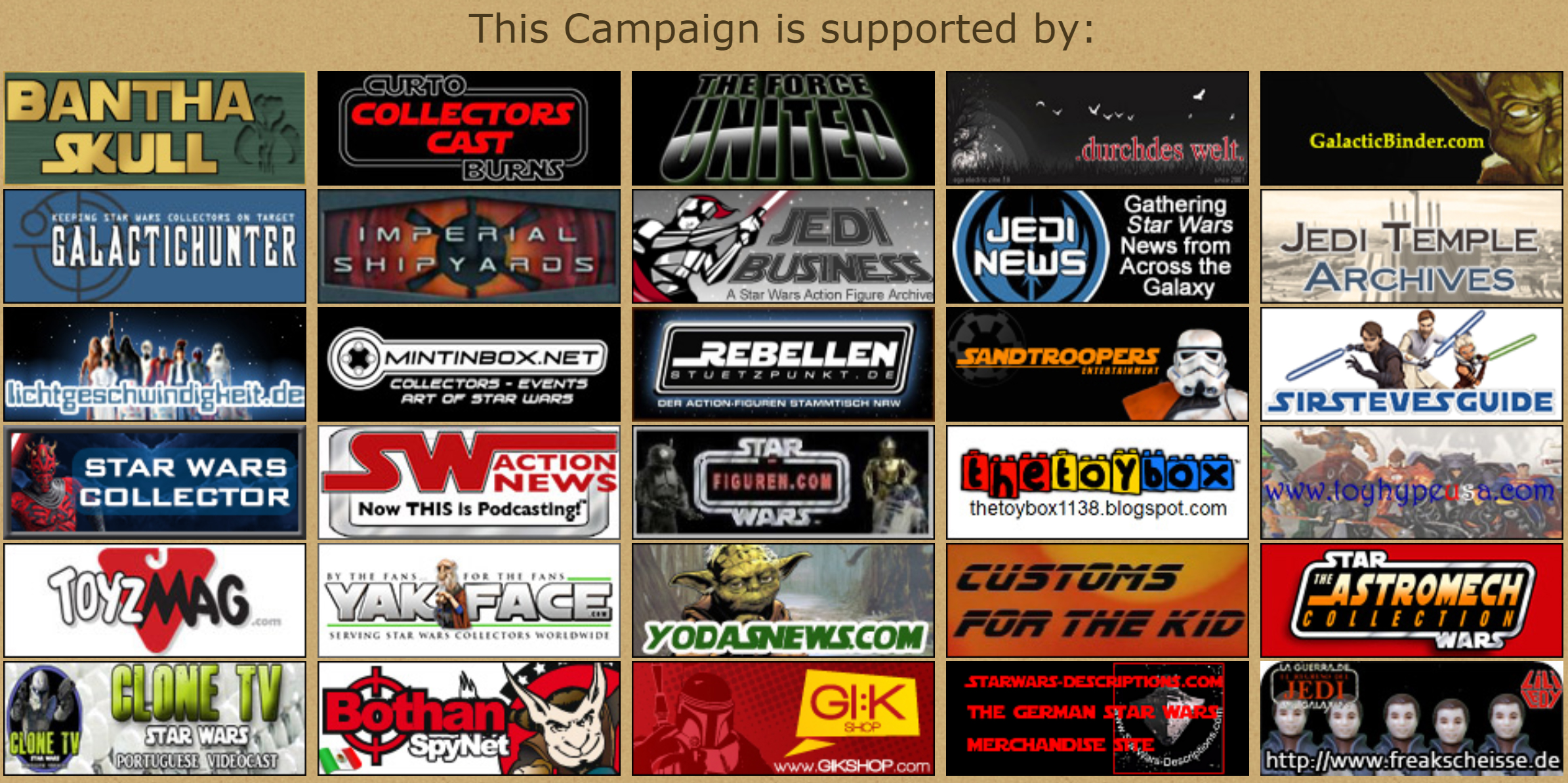 The goal was to reach 10,000 signatures, but not even the combined power of all the passionate fan sites could come close to that and the campaign ended with a disappointing 3,107 supporters. Even though we kept asking Hasbro over and over again at conventions and interview opportunities what it would take to make Jabba's Sail Barge a reality, the answers were vague. There were also many debates within the collecting community as to how big a vehicle like this should be, what features it should have and of course what an adequate price tag would be. At the time most collectors maxed out between $200 - $300. This was a time when the most expensive Star Wars vehicle for the 3 3/4" line was a repackaged Millennium Falcon in fancy Kenner-style packaging at Toys'R'Us for $249.99, and that was a slow seller which could be had on deep discount before Christmas for $125. So everybody wanted a Jabba's Sail Barge, but there were many different opinions about how much it should cost, and just like with everything, over time the Sail Barge topic went away with the overall conclusion within the collecting community that Hasbro would never make such a big vehicle.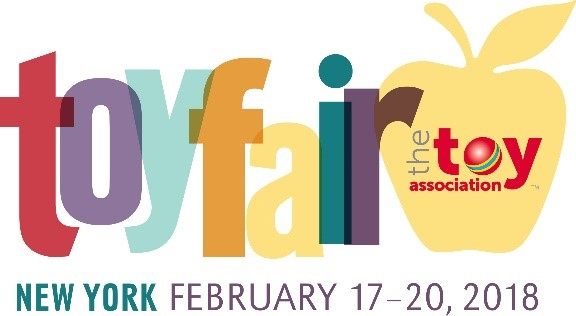 Fast forward five years to New York Toy Fair 2018 and to everybody's shock there was a full-size Jabba's Sail Barge on display which was in scale with the 3 3/4" Star Wars action figure line. Not only that, but it was announced that it would be available to purchase for $499.99 + tax on a new crowdfunding inititive called HasLab right away. MIC DROP!
This announcement combined with a prototype on display sent shockwaves through the collecting community, it felt like 2013 again when all fan sites rallied behind a common goal once again, but this time Hasbro was onboard ready to take the money.
The Jabba's Sail Barge HasLab project was announced and started on 2/17/2018 and ran until 11:59 PM EST on 4/3/2018. It took until 3/30/2018, only a few days before the campaign was over, for Jabba's Sail Barge to be funded fully with 5,000 supporters. However, once it had reached its goal it skyrocketed to 8,810 backers quickly.
Hasbro did a phenomenal job keeping fans interested throughout the entire crowdfunding campaign, here is a look at what happened while we were all biting our fingernails hoping that the Barge would reach its goal:
Once Jabba's Sail Barge was funded the Hasbro Star Wars team celebrated and we saw the Barge being used as a Sushi tray! A few days later we also got to meet the team behind the entire project.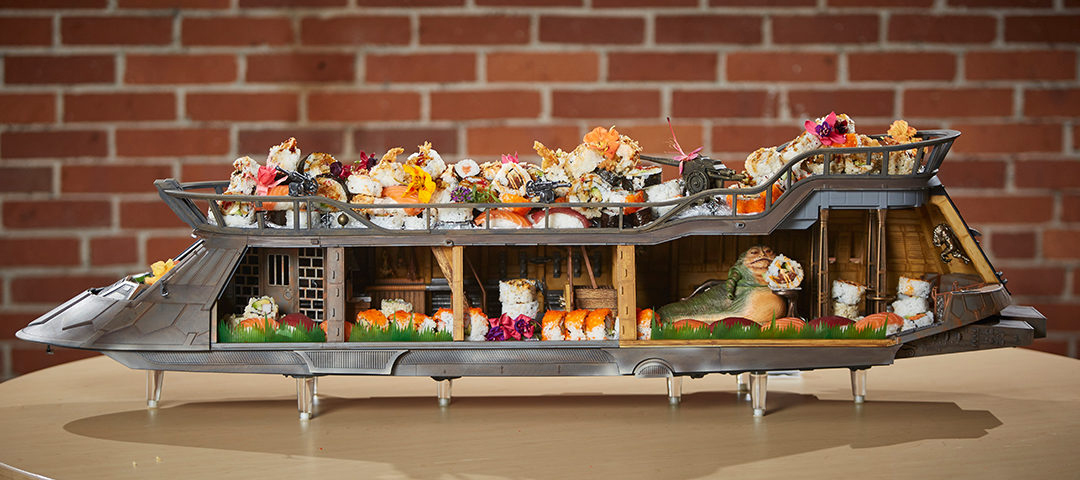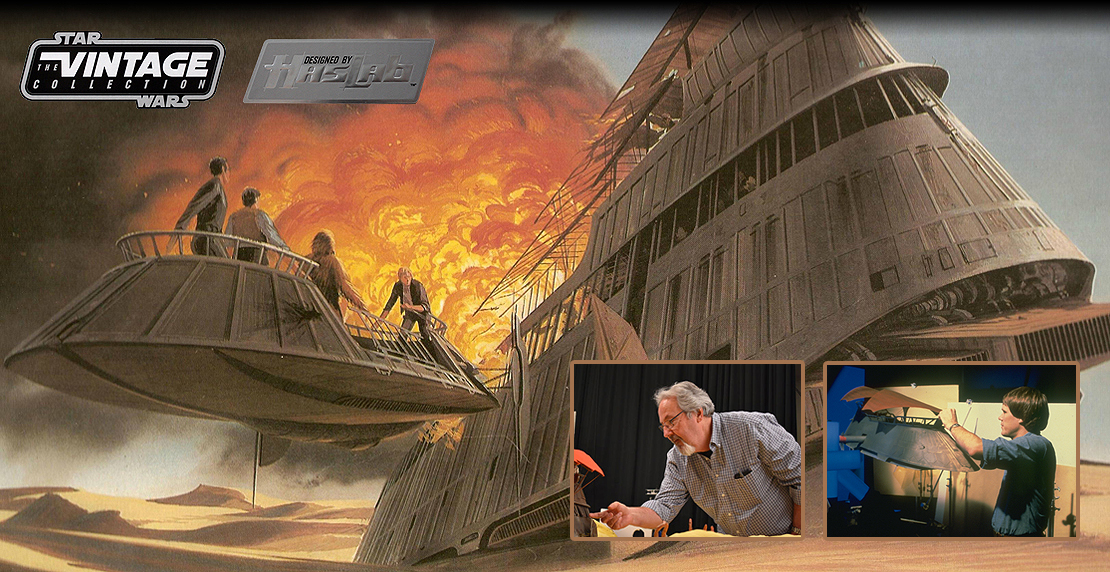 In April 2018, the same month Jabba's Sail Barge reached its funding goal, the Behind The Workbench booklets arrived (4/28/2018) with details about the creation of the Sail Barge. This was great because it gave us an opportunity to learn more about the Barge and it was new fodder for discussions. Throughout the remainder of the year Hasbro sent out several email updates with new information in regards to the Sail Barge's production progress, this included an unprecedented look behind the scenes including a look at the CAD model of the Barge. A bigger update however came during New York Comic Con 2018 when Hasbro displayed a close-to-production finished Sail Barge to the press and showed a video about how much effort and care was taken when the packaging images were created. You can watch the video in our New York Comic Con 2018 coverage (the segment starts about 36 minutes into the video).
Right before Christmas on 12/19/2018 Hasbro released the final Jabba's Sail Barge packaging images to the press which got everybody very excited. A few weeks later during New York Toy Fair 2019 in February we saw a fully finished production version of the Barge and we were informed that it was indeed on schedule and ready to set sails at the end of February 2019! The last HasLab Insider email was sent to backer mail boxes on Feb. 19 which included access to the assembly instructions. It also informed backers that all Sail Barges would be sent out by March 4th 2019.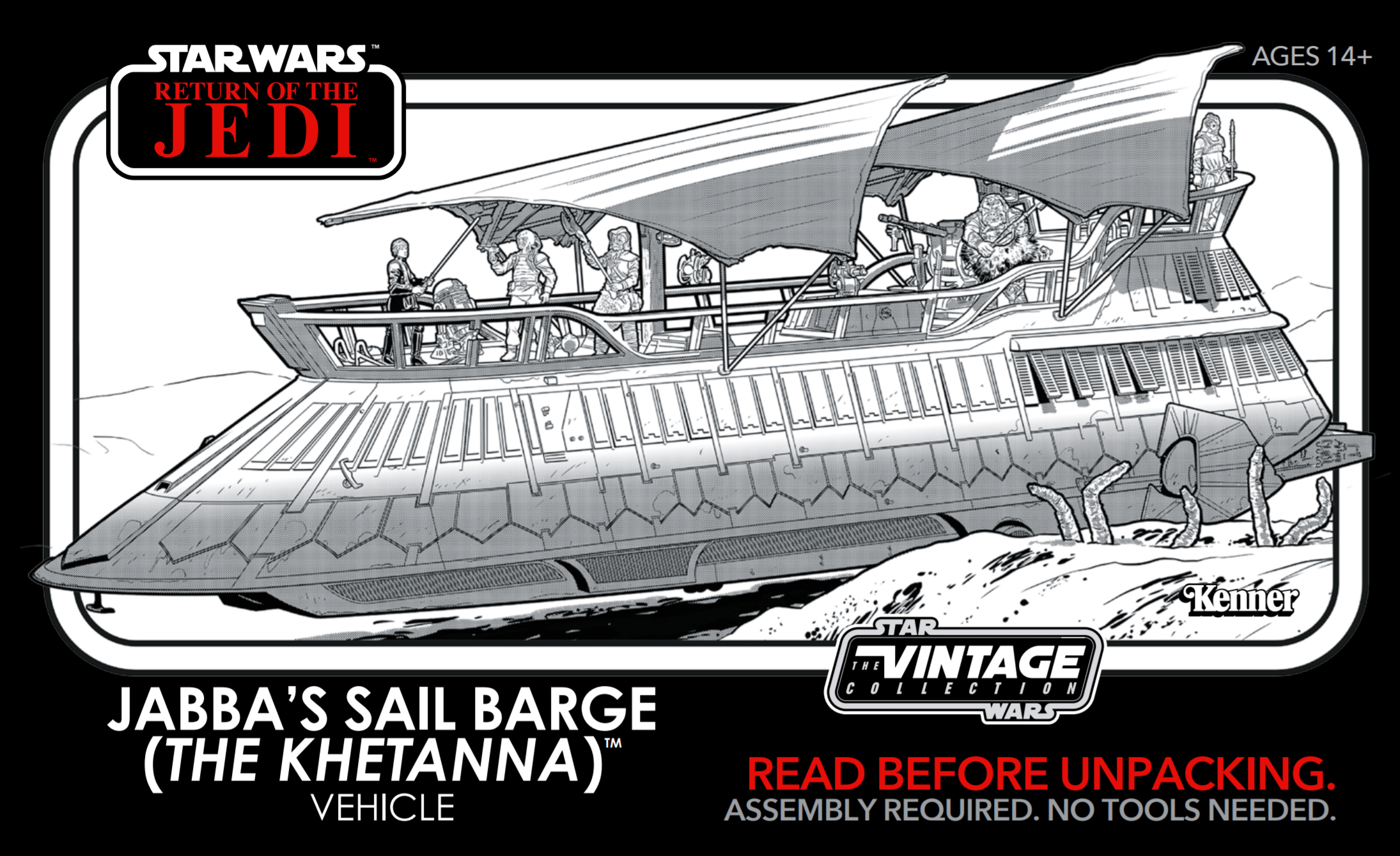 On 2/27/2019 the official StarWars.com website published an article about the Sail Barge along with a short featurette on their Star Wars YouTube show.
And that's our look at the history and timeline of Jabba's Sail Barge from Hasbro's The Vintage Collection. Please stay tuned for updates about the Sail Barge on JediBusiness.com!
We'd like to say thank you and congratulations to Steve Evans, former Design Director for Star Wars at Hasbro, who fought for this project to become a reality, and we'd like to say thank you and congratulations to Mark Boudreaux for creating such an amazing centerpiece which is probably the most impressive Star Wars vehicle created in the 40+ year history of Star Wars toys.
Don't forget to get the Vintage Collection SKIFF, the Vintage Collection SKIFF GUARD 3-Pack or an extra Vintage Collection Gamorrean Guard!