Fellow collectors of Hasbro's 3.75" The Vintage Collection, New York Toy Fair 2019 was for you! There was a lot of cool stuff shown, so let's dive into some of the information which we gathered by talking to members of Hasbro's Star Wars team on the show floor. 
The Sail Barge is on schedule, it might ship a handful of days late, but expect it to show up on your doorsteps in early March. You will be required to sign for it when it is delivered to you, so make sure that you, or a significant other, is at home at the time of delivery! A shipping notice will be sent out to you so you can plan accordingly. 
Hasbro had a production sample of the Sail Barge on the show floor and it looked amazing. The paint application, the details, the size, it's absolutely stunning and it will be an incredible centerpiece in everybody's collection in only a few weeks.
Next to it was the carded Yak Face figure with Power Of The Force coin and we learned that it will include a bar glass which will not be included in the regular retail version of the figure. Yak Face's biography on the back of the card is almost identical to the one found on the modern Power Of The Force Yak Face figure, but longer:
"One of Jabba the Hutt's top agents, very little is known about the mysterious Saelt-Marae or his specific connection to the crime lord. He could often be found hanging out in Jabba's desert palace, but was for the most part a very secretive individual. A member of the Yarkara species, Saelt-Marae was particularly adept at getting information out of people and ingratiating himself with the likes of Jabba and other influential beings in power."
The figure will be designated as VC000 and here are images of the front and the back of the Yak Face figure.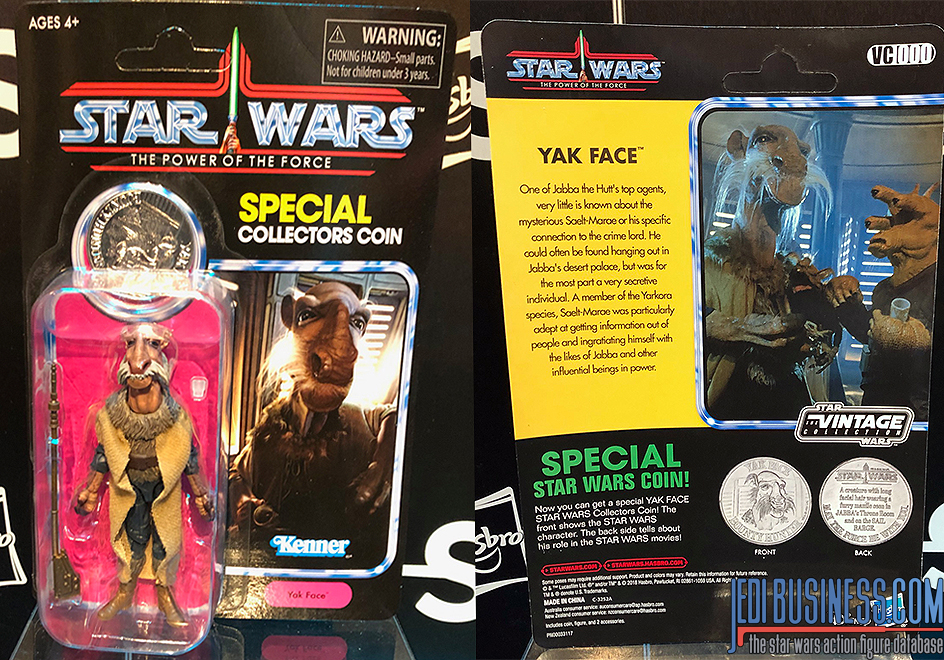 During the New York Comic Con 2018 Hasbro Star Wars panel (you can watch our live recording here) it was announced that there would be five Vintage Collection figures coming to Europe and that these will be made available to online specialty shops only in the United States. We confirmed with Hasbro that this is still the case.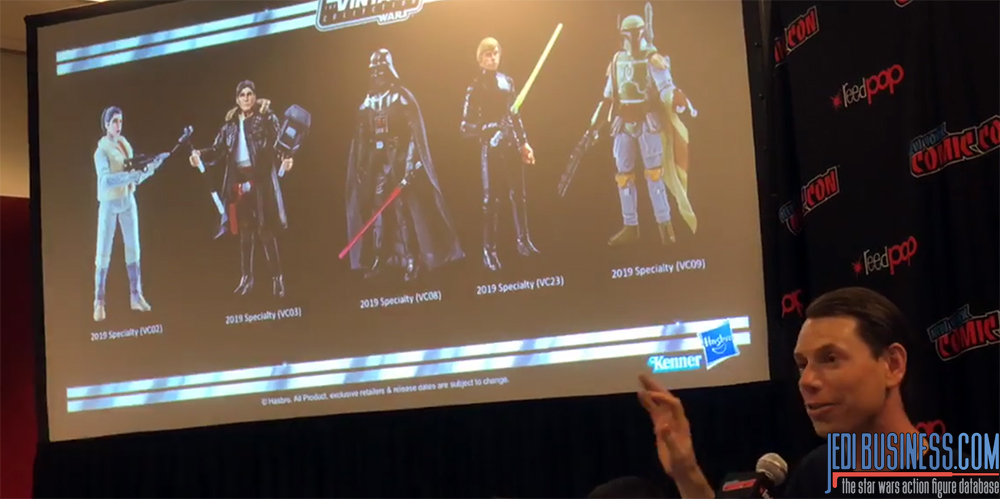 There were many great reveals on the show floor which has us very excited for 2019. Steve Evans, the former Design Director at Hasbro for Star Wars toys, mentioned it over and over again in our interviews how much he liked playsets and that he understands that we want environment pieces to build out displays. Well, he kept his word and Hasbro will release a Jabba's Palace Adventure Set which will also include two Star Wars figures, Han Solo with Carbonite Block and Ree-Yees. The set will retail for $49.99 in the United States and it will be available at Walmart only.
Both figures will come individually carded and even though the Han Solo figure is a re-release of the 3.75" Black Series Han Solo figure from 2015, the Carbonite Block was modified with a magnet so that it can be attached to the wall hanging. There is a switch in the back which lets the Carbonite Block be lifted up or taken down, which is great for your Leia Boushh scene when she lowered the Carbonite block down. The Ree-Yees figure is a straight re-release of the fantastic 3.75" Black Series Ree-Yees figure. The arches on the sides of the playset can be attached forward facing or horizontally, which adds more freedom in the way the Jabba's Palace Adventure Set can be displayed. Look at the walls in the images we took of the playset on the show floor, then look at the press images below and then compare that to the image on the packaging so you can see how the walls can be arranged.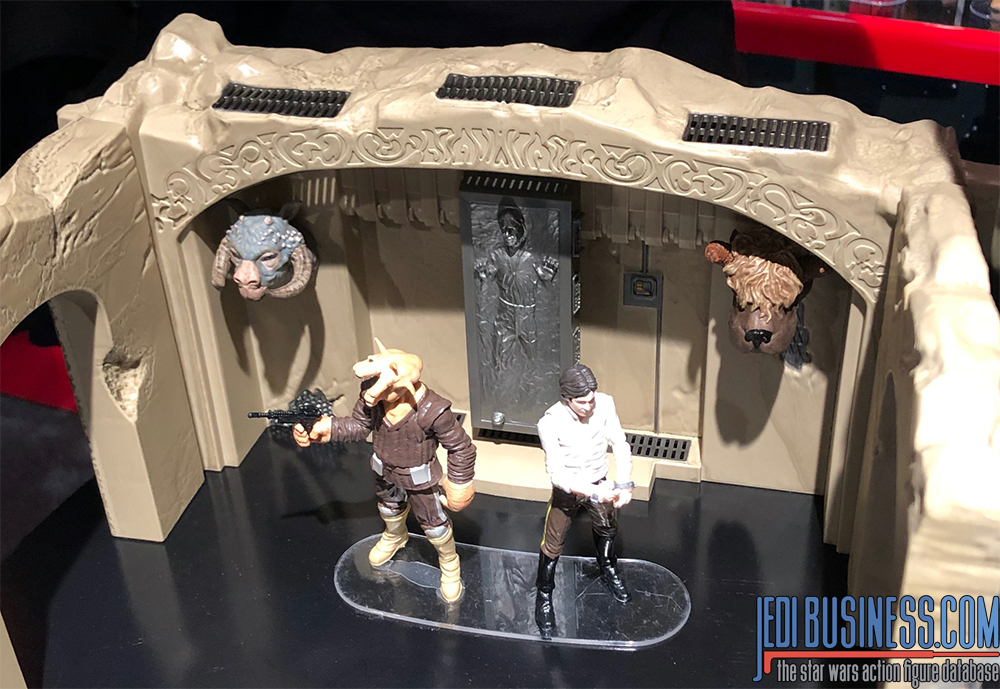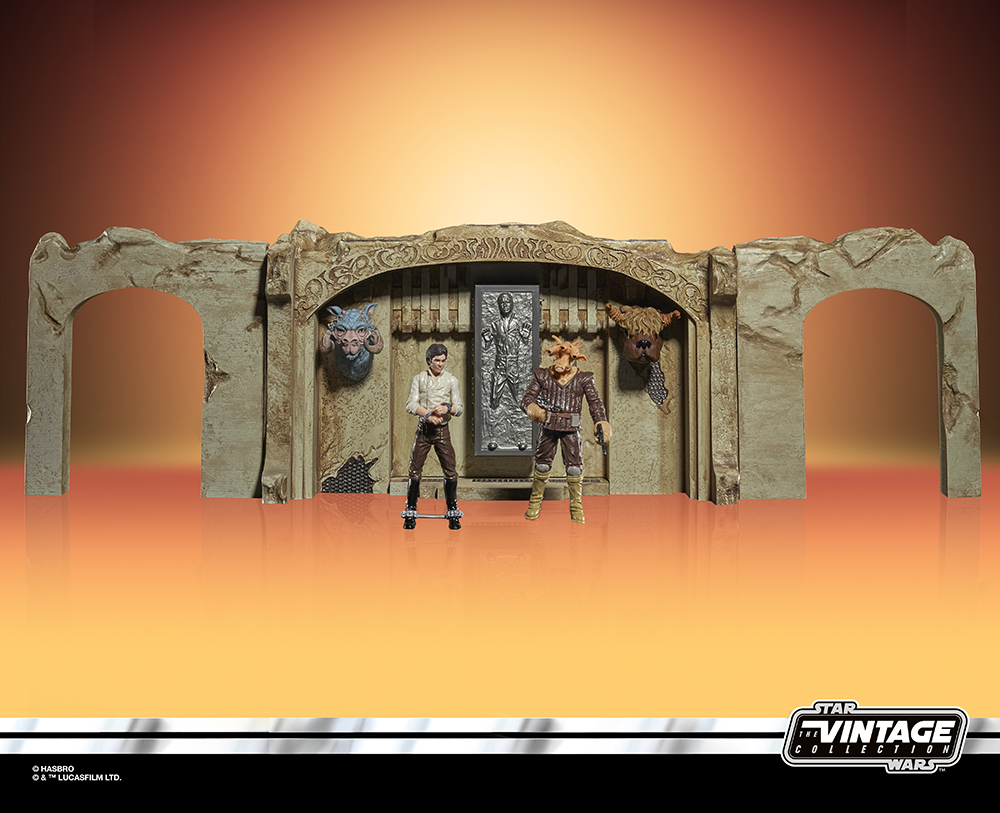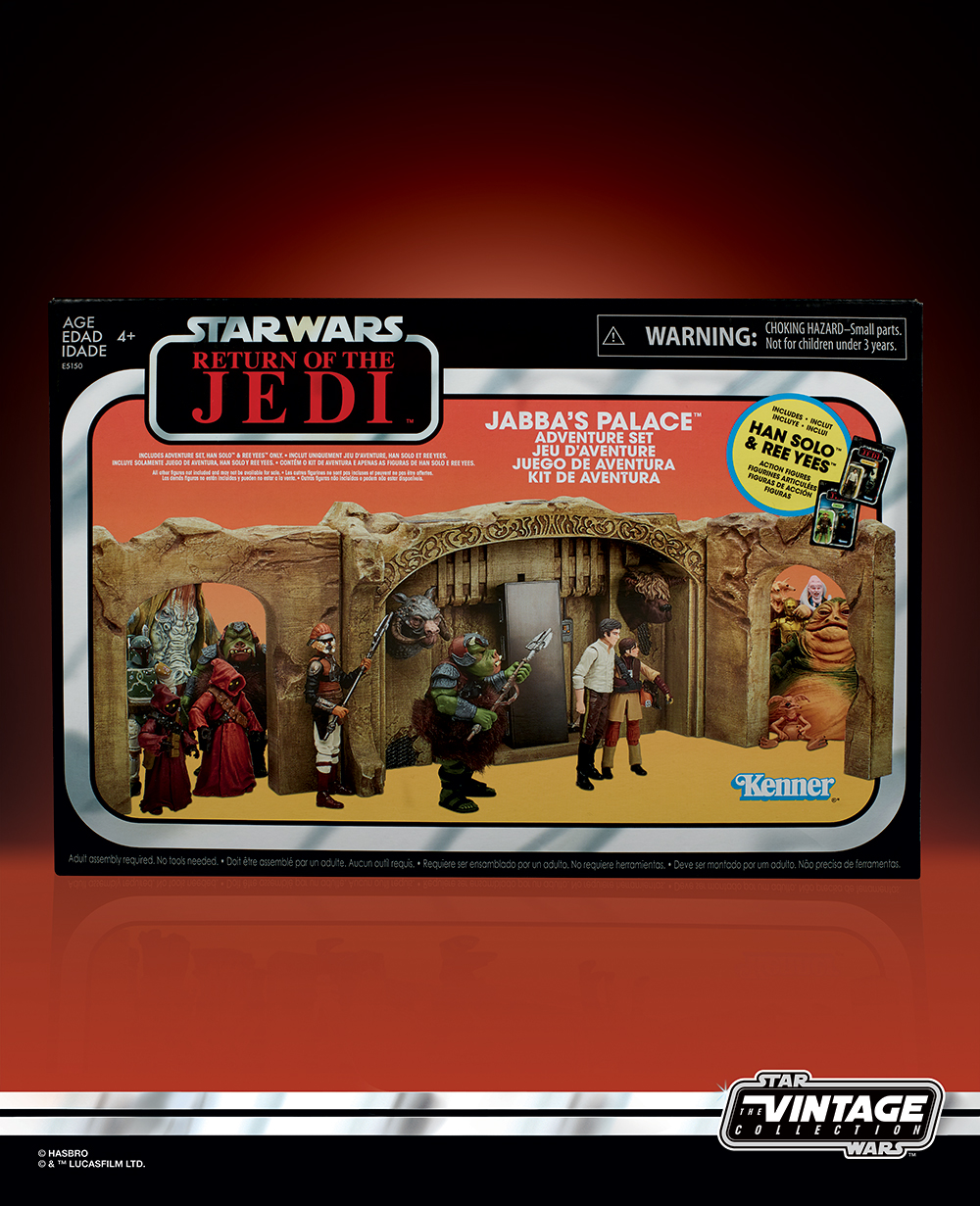 There are two heads on the trophy wall, one is a TaunTaun and the other is a Jerba head, and we are unsure if they will come pre-attached (they are not meant to be taken off, but if they are not pre-attached it would add more variety if multiple of the sets are lined-up). This is the first time ever that a Jerba was made, and if you didn't know what a Jerba was, you are not alone, we had to look it up too.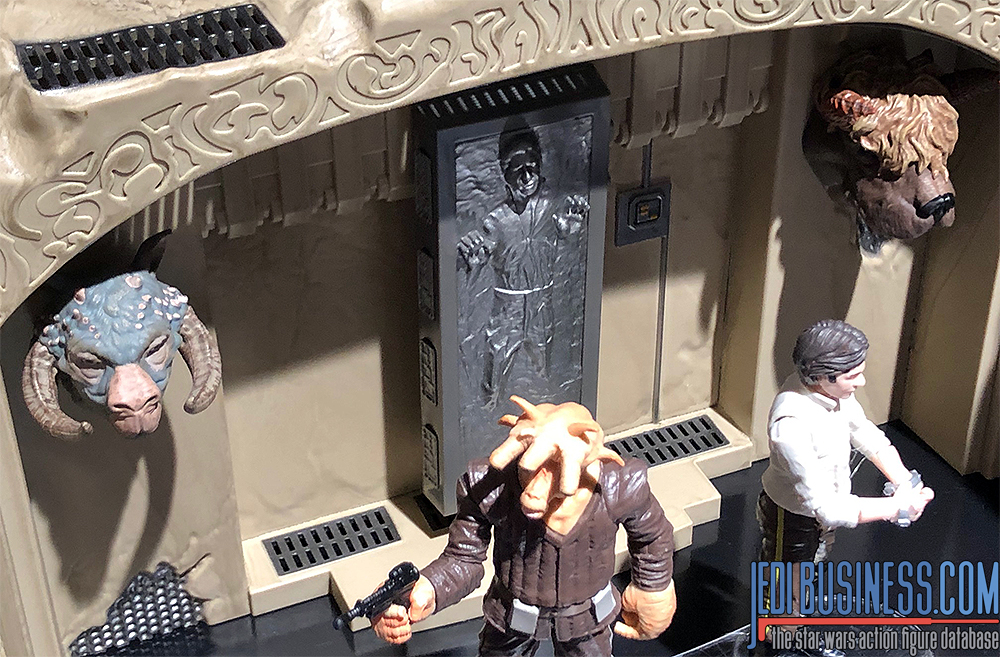 Hasbro also announced a three pack of Star Wars The Vintage Collection figures which you can already pre-order on Entertainment Earth. The set includes Vizam, Vedain and Brock Starsher. Vizam is a re-release of 3.75" Black Series Vizam figure and we can confirm that his Sail Barge cannon will also be included. Brock Starsher is a re-release of the 2014 3.75" Black Series Brock Starsher figure. The highlight in this 3-pack is the all new figure of VEDAIN! Take a look at the image we took on the show floor below: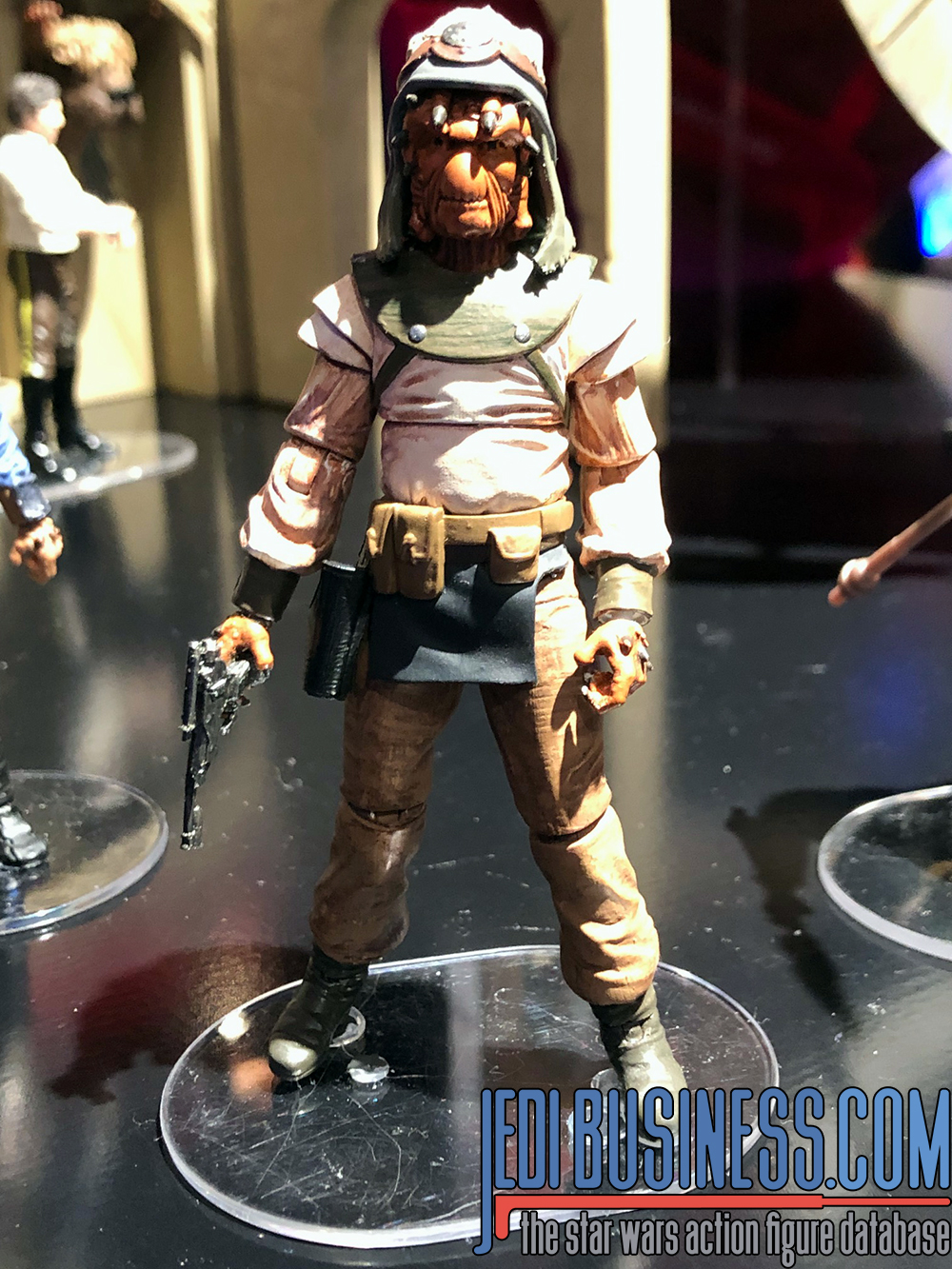 Hasbro also surprised us with a brand new and accurately scaled Skiff. Master designer and Hasbro Star Wars design legend Mark Boudreaux worked on this vehicle and the attention to detail is amazing. This Skiff is accurately scaled and there are several panels which can be removed and lots of weapon storage, you can look here for a closer look at the Skiff. If you want to pre-order it, take a look at Entertainment Earth, it's up there for $39.99.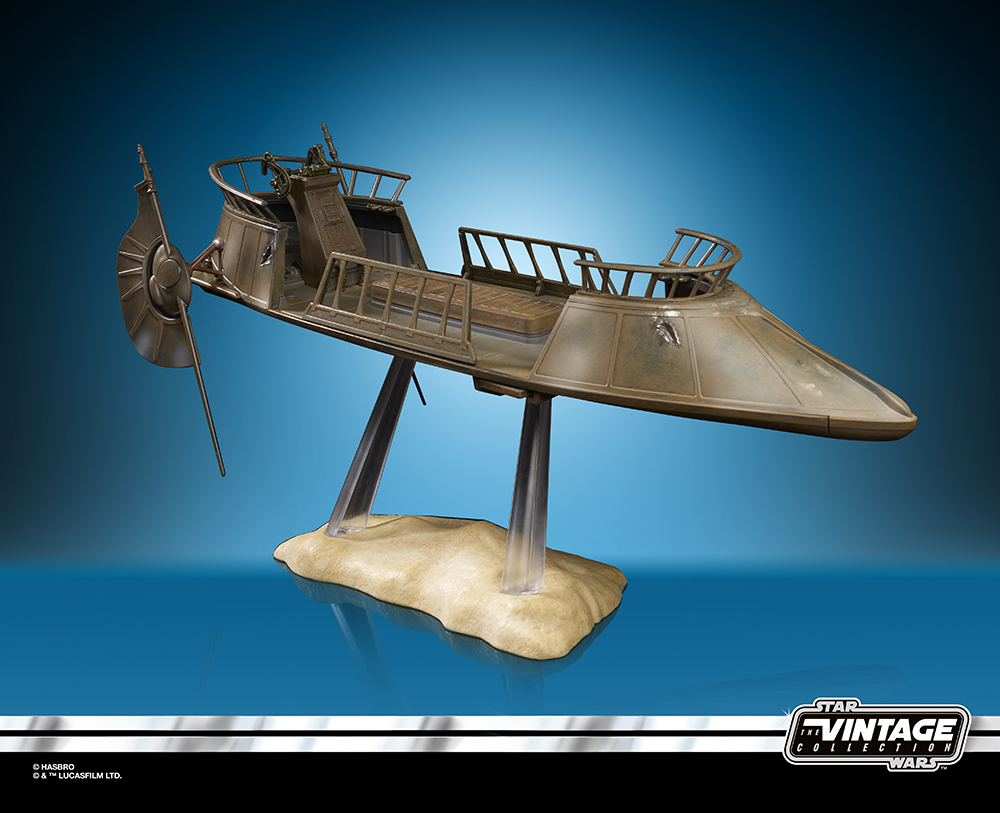 We also got a first look at what some already announced Star Wars Vintage Collection figures will look like in their packaging. Disappointing is the much anticipated Han Solo in Stormtrooper disguise whos card image could have been chosen better, but the other figures in this line-up look fantastic. Han Solo in Stormtrooper disguise will be a Target exclusive and cost the regular MSRP of $12.99. The Rogue One Stormtrooper will now be released all clean, this way if you want to troop-build it and paint him up, you can do so. Lando Calrissian in Skiff Guard outfit will be Walmart exclusive in the United States and cost the regular $12.99.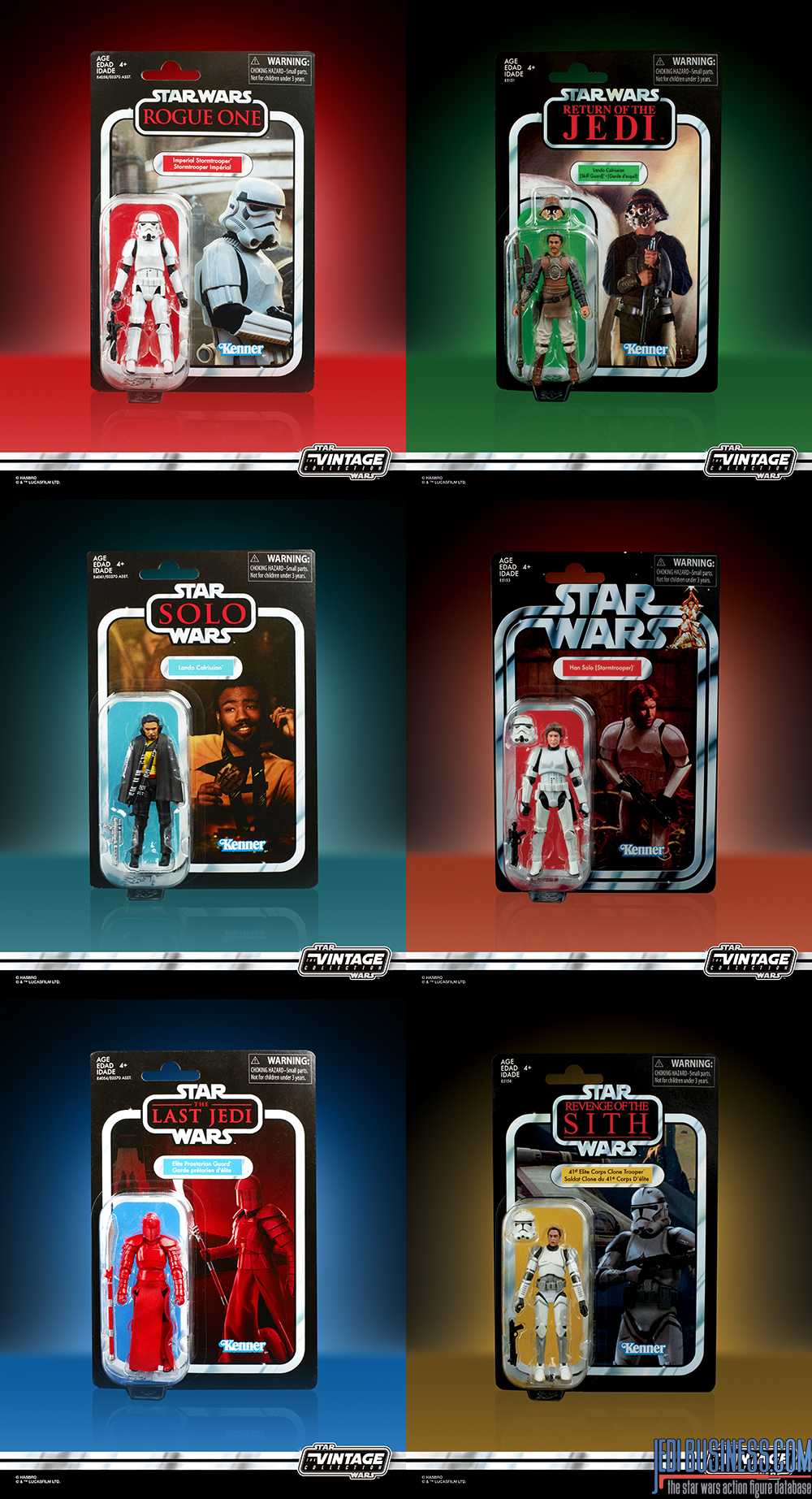 There were several other Star Wars Vintage Collection figures on display, but they had all been announced previously. However, we did get a good look at a prototype Luke Skywalker (Battle Of Crait) figure, have a look at the images: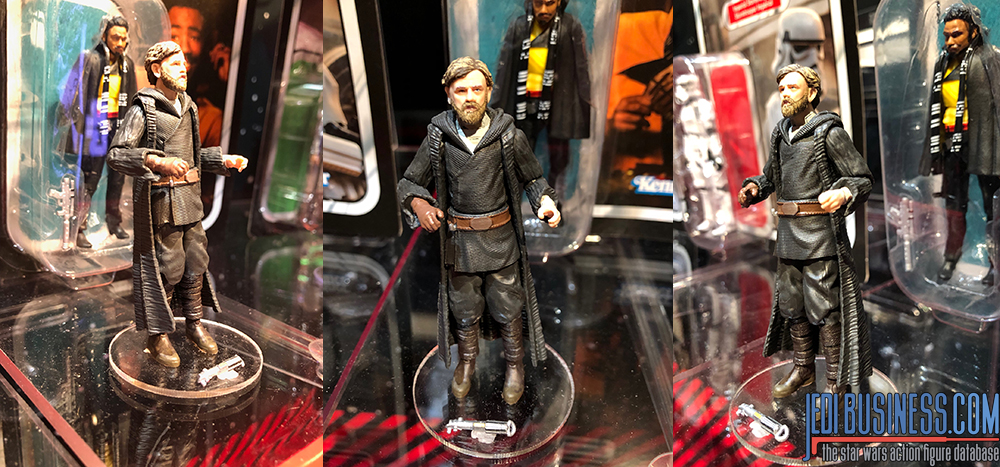 And that's it for Star Wars The Vintage Collection from New York Toy Fair 2019 for now. We are still going through images and we'll update this page if necessary with new information. We think Hasbro has truly out-done themselves and the figures, playset and vehicle should make fans of The Vintage Collection very happy! Thank you Steve Evans and Hasbro!
Take a look at The Vintage Collection
Look at Hasbro's press photos for New York Toy Fair 2019