3/5/2023
Over the course of last weekend, Emerald City Comic Con marked its 20th anniversary with a four-day celebration at the newly opened Seattle Convention Center Summit. Boasting state-of-the-art features such as spacious interiors and towering windows, the Summit provided an invigorating setting for this celebration of pop culture. For the first time in years, all of the programming offered was housed under one roof, giving the event a renewed sense of cohesion. Situated in downtown Seattle, the Summit is conveniently located opposite the Paramount Theater and surrounded by a plethora of dining and entertainment options.
While on-site parking is costly, there are ample parking alternatives in the vicinity, such as Pacific Place, where you can park for the whole day for only $12. If you opt for public transportation, the Light Rail station is also conveniently located nearby and within a 5 minute walking distance.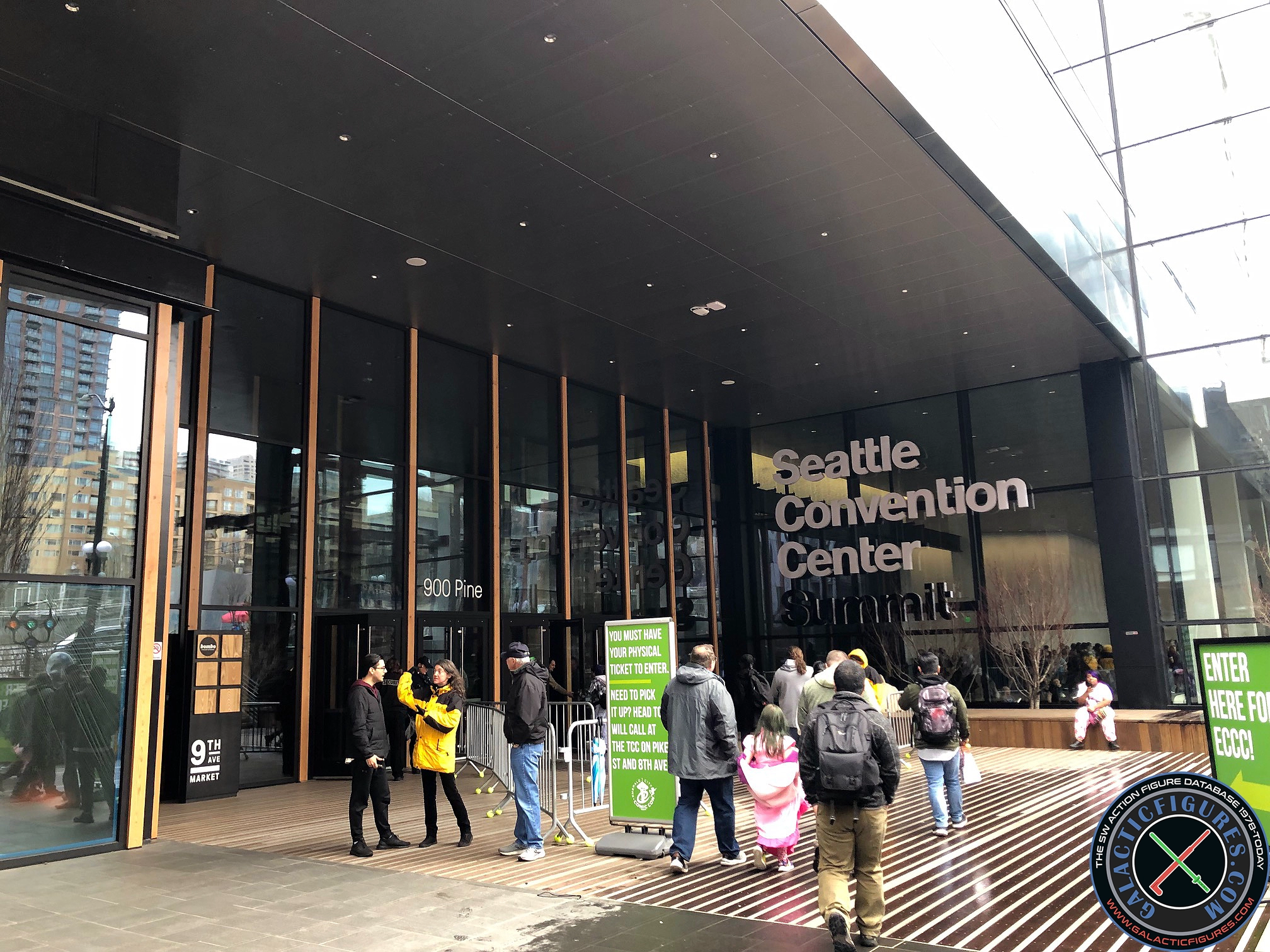 Emerald City Comic Con 2023 at the Seattle Convention Center Summit
The attendance at Emerald City Comic Con just six months ago in 2022 felt light (you can read about it here), and I am pleased to report that the crowds, fan organizations, and celebrities were back in full force for the 2023 edition as we've entered the post Covid-19 era and celebrate 20 years of this fan-favorite convention. The atmosphere felt akin to pre-pandemic times, with no masks or vaccination proof required for entry, creating a lively and bustling gathering.
As the preeminent event for pop culture enthusiasts, Emerald City Comic Con has solidified its position over the last two decades. Its unparalleled variety of programming over the course of four days ensured that there was something to suit every interest. As collectors and fans of Star Wars, we were particularly drawn to the show floor, fan activities, and celebrity guests, all of which were top-notch at the 2023 edition of Emerald City Comic Con. Devoted followers of the popular TV series The Mandalorian had the opportunity to attend meet and greets and autograph sessions with several beloved actors from the show, including Katee Sackhoff (Bo-Katan), Brendan Wayne (Din Djarin stunt double), Lateef Crowder (Din Djarin stunt double), Mercedes Varnado (Koska Reeves), and Simon Kassianides (Axe Woves). Fans of the Clone Wars TV show were also in for a treat, with the chance to interact with voice talents Ashley Eckstein (Ahsoka Tano), Dee Bradley Baker (Clone Troopers), Matt Lanter (Anakin Skywalker), and James Arnold Taylor (Obi-Wan Kenobi).
Mandalorian cosplay, Brendan Wayne and Lateef Crowder strolling by and autographs by Katee Sackhoff (Bo-Katan) and Mercedes Varnado (Koska Reeves)
At the Penguin Random House booth, fans were treated to a special appearance by author Sam Maggs, who was signing copies of her book Jedi: Battle Scars. This thrilling novel follows the story of Cal Kestis and serves as a prelude to the highly anticipated Jedi: Survivor video game, which had fans buzzing with excitement. Level 3 of the event venue housed the impressive Star Wars Experience. Here, fans could immerse themselves in the world of Star Wars and marvel at the amazing life-size, fan-built props and displays that were truly out of this world.
Despite the long and unrelenting queue for entry into the exhibition, the wait was well worthwhile. This was the ideal location to witness the intricate details of Star Wars weaponry and view accurate reproductions of the costumes worn by iconic characters such as Darth Vader, Boba Fett, Clone Troopers, and others.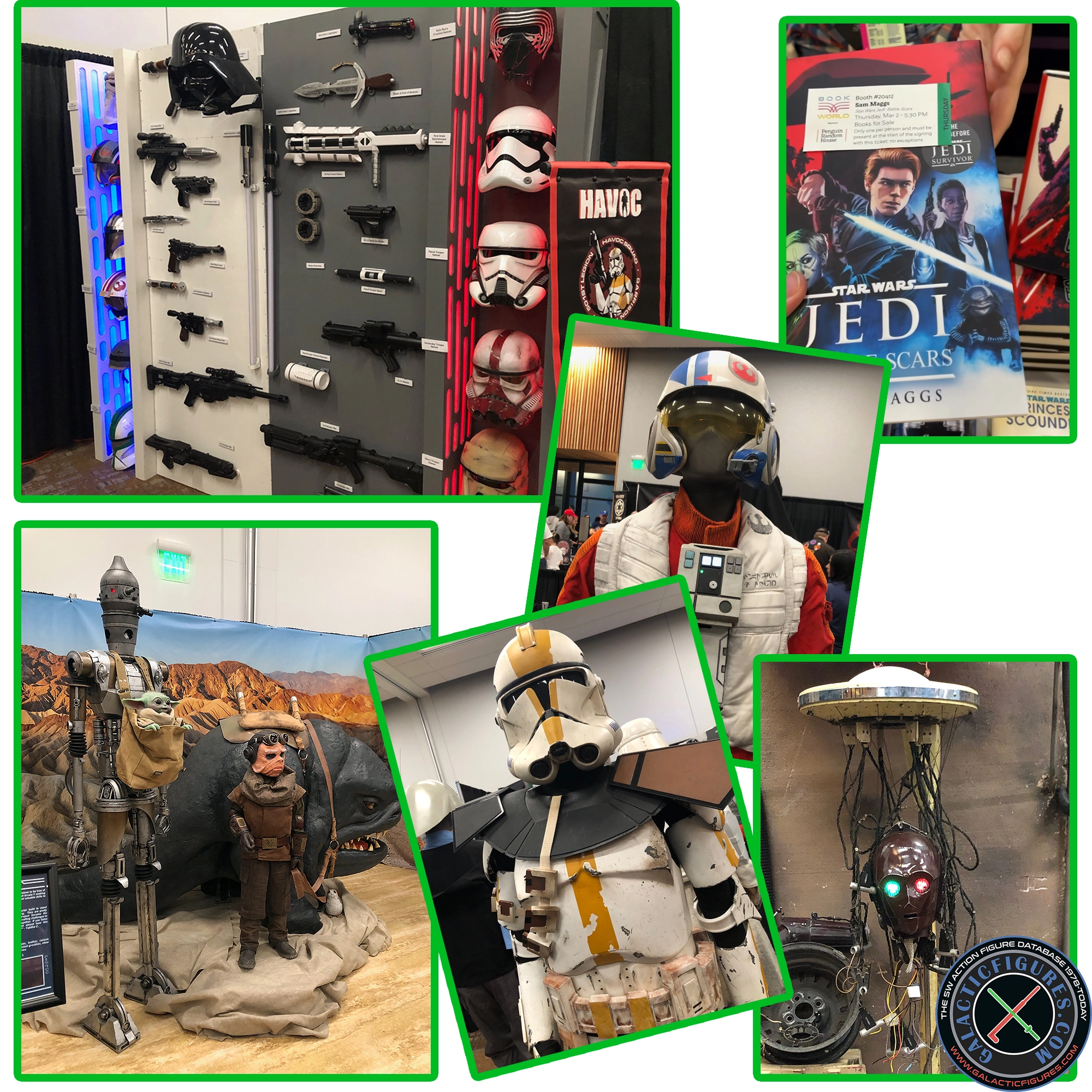 The Star Wars Experience at Emerald City Comic Con 2023
Just outside the Star Wars Experience, the R2 Builders club had set up a shop with a wide variety of droids that were roaming the floor. Fans were captivated by these unique droids and eagerly took photos with them. The presence of these droids added to the already amazing atmosphere of ECCC, making it an unforgettable experience for all Star Wars fans. It's fantastic to have numerous Star Wars clubs participating and presenting at the event because it provides us fans with a chance to engage. This is the perfect place to learn how to construct your own astromech droid or learn about what parts you need for a Star Wars costume, as well as meet others who share your passion.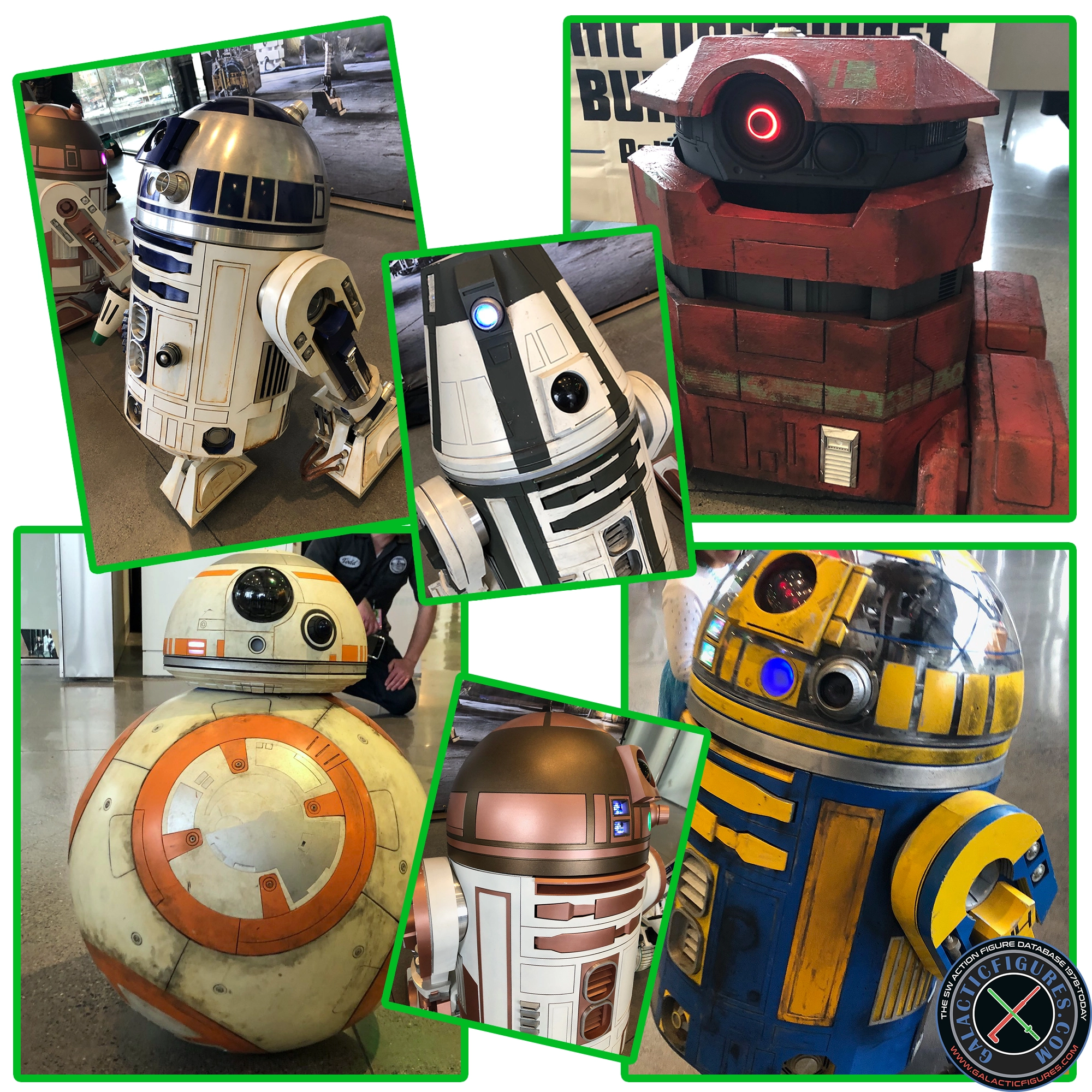 Star Wars Droids at Emerald City Comic Con 2023 roaming the floor
One of the standout features on the show floor was the impressive four-sided booth by Bandai, which boasted a wide array of action figures and Star Wars model kits in beautifully illuminated display cases. However, it was unfortunate to note that FUNKO, a company that previously boasted one of the largest booths at the convention, was absent again this year.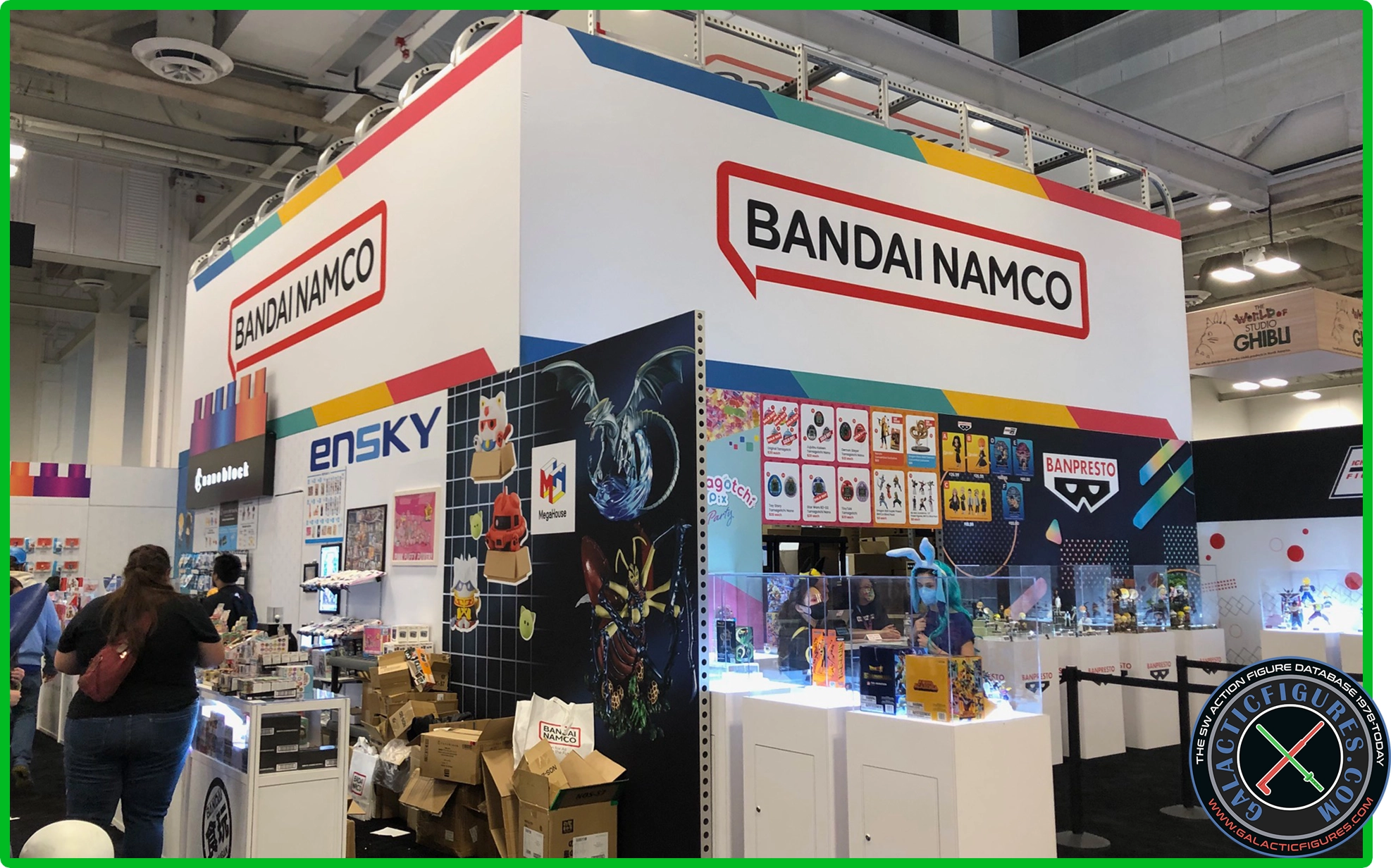 The impressive Bandai booth at Emerald City Comic Con 2023
Despite the numerous booths on display, the selection of Star Wars action figures was somewhat limited, with only four vendors offering them for sale. Nonetheless, after a thorough search of each booth, I was able to secure two notable finds: last year's D23 exclusive Droid Factory droid C1-940 and the latest Black Series 6" wave from the 40th anniversary of the Return of the Jedi which included Wicket.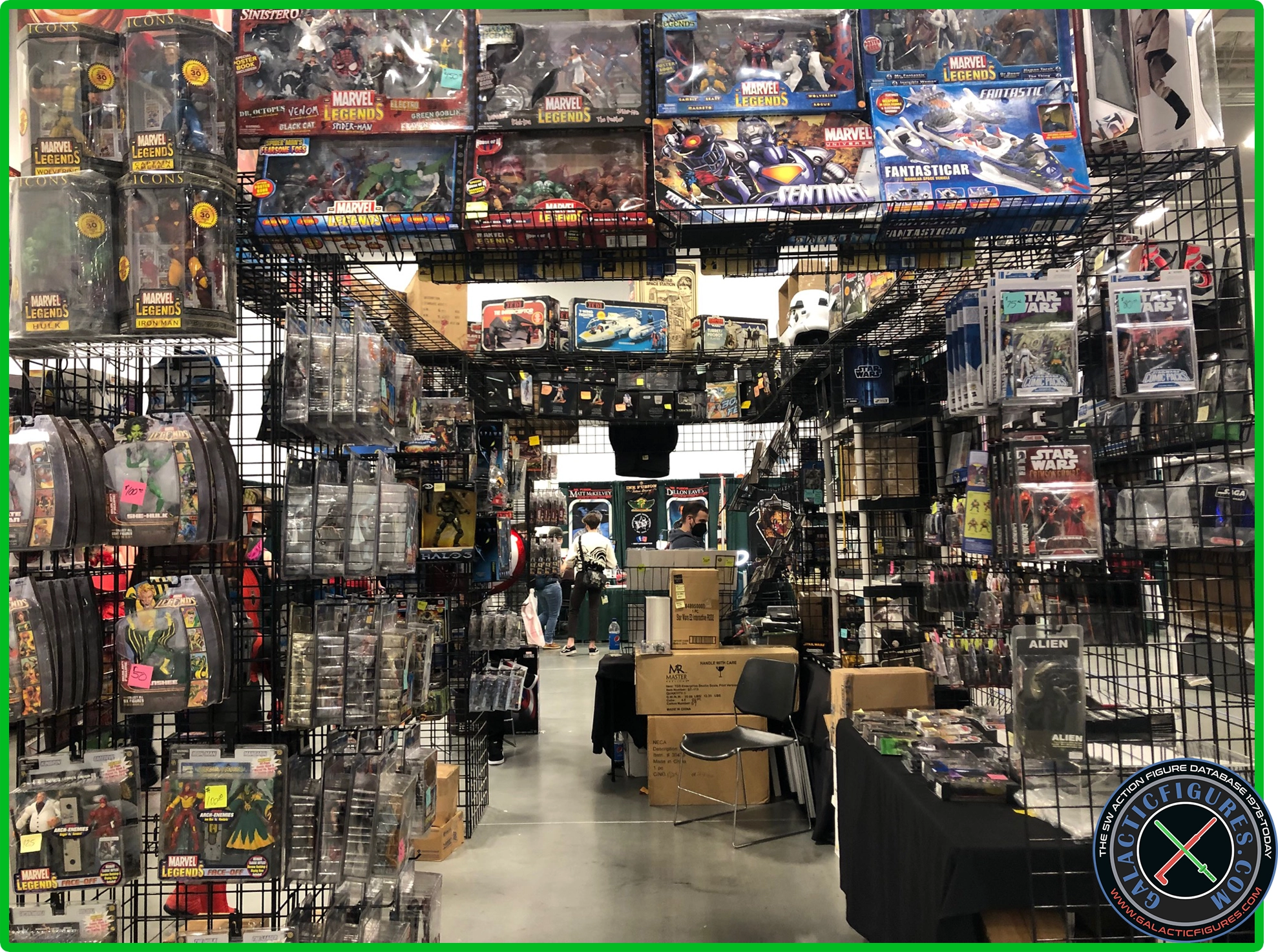 Emerald City Comic Con 2023 Show Floor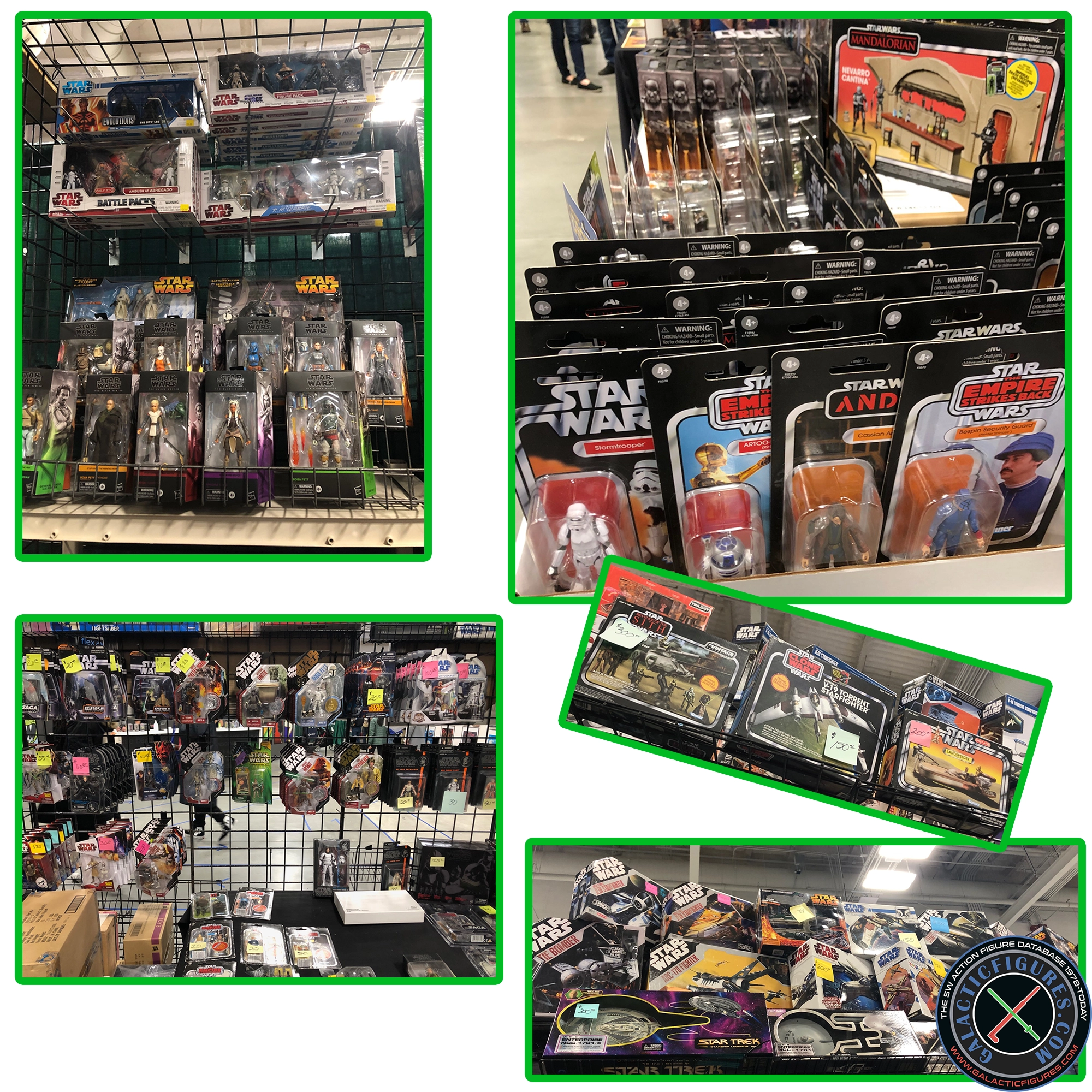 Emerald City Comic Con 2023 Show Floor
Emerald City Comic Con 2023 Show Floor
At level two, a stunning variety of artwork was showcased, ranging from Digi Pen demos to portrait sketches by artists, movie posters, and imaginative renditions of beloved characters from various genres of pop culture. The display was truly comprehensive.
On Saturday, Emerald City Comic Con was fully booked, and the attendance was high, but the Seattle Convention Center Summit's spacious layout prevented it from feeling overly crowded. It was a joy to witness Star Wars' triumphant return to ECCC, with two dedicated panels (the Mandalorian and the 15th anniversary of the Clone Wars), along with everything else Star Wars-related going on. The convention was well worth attending for multiple days. Overall, the 2023 Emerald City Comic Con was fantastic, and I am eagerly anticipating next year's event.
I would like to extend my appreciation to the ReedPop! staff for hosting GalacticFigures.com for free. We have been covering this event since 2004, and it never fails to impress, if you've never been, carve some time out next time it comes around, it's fun! Happy 20th Anniversary Emerald City Comic Con!